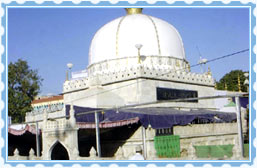 In the lap of Rajasthan, Ajmer is an oasis surrounded by barren hills but having a fertile history. Raja Ajai Pal Chauhan founded it in the 7th century and his dynasty continued to rule the city until the famous romantic chivalrous heroic King Prithviraj Chauhan finally lost the city to Mohammed Ghauri. The culture and traditions of the city were strongly influenced by the rulers and still one can see find its expression in modern Ajmer. It is a popular pilgrimage centre for both Hindus and Muslims because of the 'Dargah Sharief', the tomb of the famous and kindhearted Sufi saint Khwaja Moinuddin Chishti.
Both Muslims and Hindus revered Chisti equally and the Urs fair held on his death anniversary attracts thousands and lakhs of pilgrims every year. This six-day long festival is quite a popular event in Ajmer. People visit Ajmer Sharif, which is held in great reverence by the devotees, as it is the place where the relics and remains of Khwaja Moin-ud-din Chishti are buried. Khwaja was Persian by birth and was the founder of Chishtia order of 'fakirs' in India. Besides the dargah, Taragarh Fort and the Adhai Din Ka Jhopra are amongst the most visited places in Ajmer.
Ajmer's Prime Attractions
Taragarh Fort
The gigantic fort overlooking the city and having six entrance points houses Miran-Saheb-ki-Dargah. It is the tomb of the governor of the fort who died fighting valiantly. The fort offers excellent views of the city along with the bordering Nagpahari hills of Aravalli ranges. It has a rich history and significant archaeological importance.
Adhai-Din-Ka-Jhopra
A much antiquated version of the modern mosques, this Indo-Islamic masterpiece was built in 'Adhai Din' meaning 'two and a half days'. It has a front screen wall with seven pointed arches and distinctive pillars and arched screen with ruined minarets.
Dargah Sharif
'Dargah Sharif' meaning 'Holy Dargah', is the tomb of the Sufi saint Khwaja Moin-ud-din Chisti, who migrated to India from Persia and devoted his life to the help and upliftment of the poor. It is one of the most sacred Muslim shrines in India and is venerated by both Hindus and Muslims. Its massive gate has silver doors. Many Moghuls ranging from Humayun to Shah Jahan contributed to build this mosque. The actual tomb of the saint is built in marble with a gold-plated dome and is surrounded by a marble screen with a silver railing.
Ana Sagar Lake
The artificial lake named after Anaji Chauhan is a popular picnic spot for the people of Ajmer. It has a 'Baradari' surrounded by beautiful parks and elegant pavilions. It was built by Shah Jahan to pass time during his long stays in Ajmer. The catchments have strong Rajasthani influence to their constructions as the locals built them.
Ajmer City Facts