Express your opinion on Savion site and services using the form given below. We treasure each feedback & review, positive or negative, as it help us to improve and grow and provide better services to our customers. By commenting and letting us know about your views and opinions on what we're doing and how we could make things even better, you become an active and valued client of our company and help us to assist you better next time. Do send us your suggestions, reviews, complaints, details of the site problems or factual errors that you encounter on the site and we will respond to them promptly and try to work on them as soon as possible. So if there's anything you want to say, please fill the feedback form given below:
Let's see some of the real-life testimonials and feedbacks that we got from our clients regarding our services and assistance provided to them by the employees of Savion:
Smitha Kanchna, India
Places Visited: Indore, Ujjain, Maheshwar and Omkareshwar

Good evening Savion,

Thank you, we had a wonderful trip.

Regards,
Smitha.
Paula Baranski Elizabeth Margaret and Deborah Jane, UK
Places Visited: Delhi, Jaipur, Ranthambore and Agra

Dear Mr Gusain

Namaste!
Just want to say a 'big thank you' to you & all the drivers, reps & guides we had, during our trip to India, my fellow travellers & I all had a superb holiday, we especially enjoyed our time at Dev Vilas and all our safari trips we had a most excellent guide on these excursions. Do hope it is not too before our next trip to India!

With very best wishes,
Paula Baranski
Sailesh Doshi, United Kingdom
Places Visited: Jammu, Katra, Vaishno Devi, Amritsar, Dharmshala, Shimla, Delhi and Varanasi

Hello Savion Team,

We are back from our travel to India. It was an excellent trip where we visited a lot of religious places. Overall it was very nice. I picked the hotel in Dharamsala which was a wrong choice. The hotel isn't completely finished and it was cold in the hotel but service was excellent which I cannot fault. All the other hotels were good and their services. I can say drivers could have been better in telling us the places while we were travelling as they did not explain until we asked him. Otherwise you arranged the trip very well. I will definitely recommend it to my friends.

Thank You
Sailesh
Simon Miller and Kevin Hartley, UK
Places Visited: Bangalore, Mysore, Ooty, Madurai, Chettinad, Trichy, Thanjavur, Pondicherry, Mahabalipuram, Covelong and Chenna

Hello Savion Team

Just to say we had a fantastic holiday and all went very well!!!

The driver we had for 14 days was very good and once he got to 'know' us was joking with us which made for a good trip, he also showed interest in a couple of placed he hadn't visited before and we liked this as it showed he also likes things and doesn't just drive.

All of the hotels were very good, I notice the initial budget hotel in Bangalore was changed without notice - but not so important. The only one that was more 'basic' in feel was the Fortune JP Palace in Mysore but it was certainly ok.

Chettinad was a great place and the Visalam hotel the best hotel we stayed in. There is quite a lot to see in this area, mansions, a fort on a hill, antiques, local temples and because it's smaller towns its quite different, and enough to explore over 2 nights.

My only change would have been to have arrived at Madurai late pm (as we did), Meekankshi temple and the Palace the next morning as as these only take 3 hours, then move on to Chettinad for 2 nights.

The Taj at covelong was also very good as was the Premium indulgence room we had. The Premium rooms and the top grade - premium villas are out of the way from the main resort and the pool and the swimming area on the beach. I would not have like these 2 room types.

So thank you for your help with this tour and we may be back sometime in the future to cover an other area of this very interesting country of yours?

Many Thanks
Simon Miller
Binitha Sajith, Sarita Vasant Sailaja Premarajan, India
Places Visited: Kanchipuram, Tiruvanamalai, Chidambaram, Thanjavur, Trichy, Rameshwaram, Palani and Madurai

Dear Savion team

Thank you very much for the wonderful week long trip to the temples of Tamil Nadu

We would like to thank you for the wonderful arrangements made by you and your team. The driver was well behaved, very safe driving, patient and guided us well through the trip. Special thanks to the driver Mr Krishna Mohan. Your representative welcomed us at Tanjavur, Trichy and Madurai.

We would like to inform that the best rooms were at Hotel Sangam and Hotel Poppys- they were spacious and comfortable.

Thiruvannamalai hotel Anantha resort room was spacious but the bathroom was a little old type. Trichy room at Gardenia was a little small- more spacious room could have been allotted as we were 3 persons.

Overall experience was wonderful and we would definitely recommend you to our friends and relatives.

Looking forward to our future holidays through you.

Regards
Binitha
Mr. Jordi Cintas Bayona and Ms. Maria Sorola, Spain
Places Visited: Delhi, Varanasi, Khajuraho, Agra and Jaipur

Hello Savion!!

We are sorry for being late. We've been very busy since we arrived home.

Our trip was amazing. The hotels, the flights, the drivers, the guides, all the things were absolutely satisfying. Maybe, in the future we will ask for spanish speaking guides, because we met a lot of indian people who knew spanish. And maybe we will choose a kind of trip less guided, only with a driver and a punctual city guides.

The only thing we didn't like is that the guides wanted to show us some shops where we were somehow "forced" to buy some typical souvenirs. But we learned how to avoid them in a nice way.

Thank you so much for your kindness. We will recommend you to all our friends. It's been a nice way to know india for the first time.

Kind regards,
Jordi and Assumpta
Shruti Rayan and Prasanna Rayan, United States
Places Visited: Thailand, Cambodia and Indonesia

Hi Savion

Thank you for providing and helping us with the vacation to South East Asia. We had a good time and everything went smoothly.

Cambodia trip was the best followed by Bali. We wanted to congratulate you on all our transfers. Bangkok trip would have been better had we got a connection from Bangalore in the morning instead of the red eye flight and adding the palace in the itinerary. Pattaya was suitable for younger clients but we felt Phuket would have been better for us.

All in all we had a good time and thank you very much for the arrangement. We appreciate your quick response to any and all of our questions which is why we decided to go with you.

Thank you once again
Shruti Rayan
Mr. Ram Namd, Mrs. Sneha Lata and Ms. Vanisha Nand, New Zealand
Places Visited: Delhi, Varanasi, Khajuraho, Agra, Jaipur, Pushkar, Jodhpur, Udaipur, Chandigarh and Amritsar

Hi Savion Team

Just wanted to drop a note to say thank you for all your help in organising the lifetime trip for my uncle and family. They really enjoyed their tour and had a wonderful time. I know they had a incident in Varanasi but apart from that they were really really appreciate of everything.

Once again thank you so much.

Kind Regards Nalesh
Ian and Lissa Rogers, United Kingdom
Places Visited: Dehi, Agra and Jaipur

Hello Savion Team,

Loved our driver he was cautious and kind, drove very well with care and attention. Time keeping excellent of all the appointed ground staff.

Tour guide in Agra had a personal problem so he didn't come with us the next morning but he organised guide at Fatehpur Sikri

Tour guide in Jaipur good but spoke very fast Standard of accommodation excellent. To visit Jodpur and Udipur next which itinerary would you recommend and where should I fly into from Dubai for the better connections with thanks

Lissa
William Lobo, United States
Places Visited: Golden Triangle Tour - Delhi, Jaipur and Agra

Hi Savion,

A huge thanks to every one at savion Travel. It was really well planned holiday. All of your co staff were excellent through out the journey particularly Shisir.

I have looked at all our correspondence to find the Invoice copy, but no luck. Can you send me an Invoice for the booking/payment made. Please scan the Invoice copy and send it to my e mail. Also show the payment made.I prefer the Invoice to be on Bharat online/Savion letter head with Invoice date to be the date of holiday confirmation or Initial Advance paid.

Thanks,
William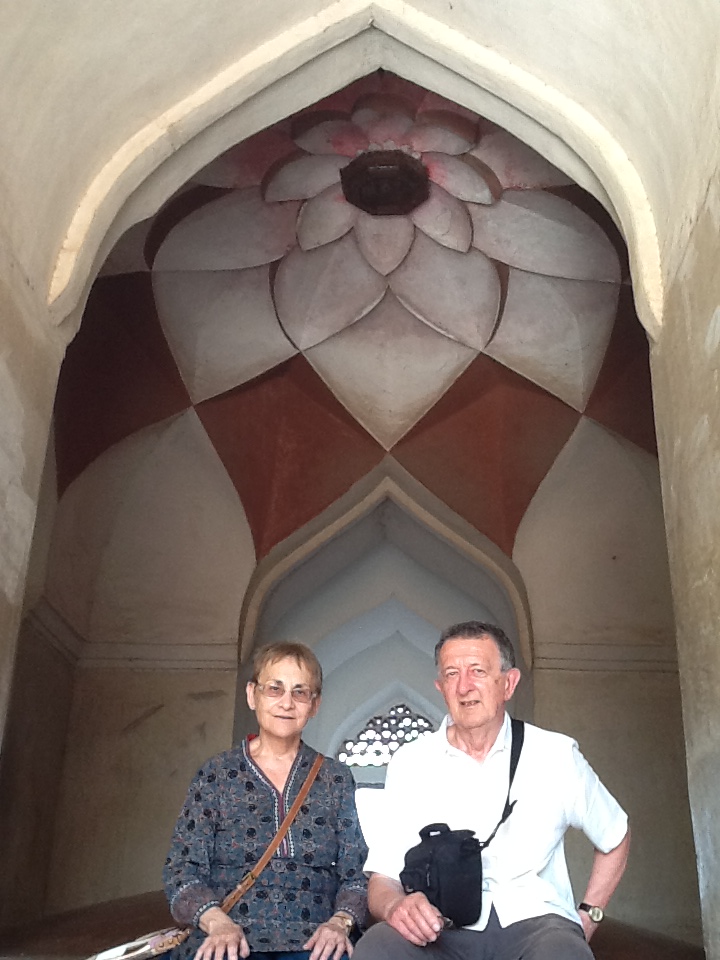 Basil Minor, United Kingdom
Places Visited: Tamilnadu and Kerala Tour - Mahabalipuram, Kanchipuram, Pondicherry, Thanjavur, Madurai, Periyar, Munnar, Coonoor, Mysore and Bangalore

Dear Savion,

We had as always an excellently organised trip. Our driver Chandra was exceptional, always with a smile, always impeccably dressed and managing to help and cater for our wishes to enhance the whole holiday. Going out of his way to stop at interesting places and beautiful viewpoints and ensuring that we were always safe and not bothered by ticket touts.

We enjoyed the range of different accommodation that we had. Particularly noteworthy were the two Ideal Resorts and the Anantha Heritage Hotel in Pondicherry.

Your choice of places to see and the provision of guides, where necessary, was inspired.

The food we were served was generally excellent (with the exception of breakfast at the Lalith Mahal Hotel Mysore which was poor, their a la carte dinner was fine).

The Bison Country Homestay we much enjoyed as it was very homely and as seasoned travellers we are accustomed to staying in other than 5 star hotels. This venue might not be suitable for those visiting India for the first time or who expect very high standards of accommodation. We however loved it.

We loved the ambience of the Heritage Hotel in Madurai, unfortunately we only had one night there and could not use their facilities to the full.

As always the organisation of the trip from first tentative ideas of a route and places to stay to the final itinerary went smoothly. Once the Holiday began at Chennai Airport until we were delivered to Bangalore Airport, everything went exactly to plan.

Our holiday was also enhanced by the friendly fellow tourists, mainly from other parts of India, whom we met on route, who went out of their way to make us feel at home. We are always astonished by how welcoming everyone is, and is one of the reasons why we keep on coming back to India.

As you know, there was only one problem, the fact that our bank for some reason refused to pay out on our credit card when we arrived, although they have paid you a number of times before and we did tell them that we were going to South India starting in Chennai. This was made more inconvenient in that we could only use our debit card at ATMs twice in any 24 hour period. Our bank would have allowed us to take out £300 at each withdrawal, but the banks in the towns we passed through would only supply Rs 10000 at a time. We had no problem at any hotel or shop using our currency card or Visa debit card so it might be an idea for your representative when meeting a traveller to carry a portable card reader.

I enclose two photographs of my wife and I.

Our next trip, in a couple of years time must go into the foothills of the Himalayas perhaps to Darjeeling where my Grandfather was born, or perhaps to Shimla and on to the Corbett National Park.

Thank you again for the very well organised and faultless trip.

Basil and Hilary.
Sandra Paterson, United Kingdom
Places Visited: Kerala Backwater Tour - Kovalam, Trivandrum, Alleppey, Cochin, Chennai

Hello Savion,

I enjoyed my trip and felt very safe and well looked after.

One thing that I was not happy with however and that was the hotel in Chennai. The décor was very seedy and the prices charged were very high compared with other hotels which you booked me in to. I don't think that it was a 5 star hotel which I paid for.

Otherwise well done and I would recommend your company to others in the future.

Sandra Paterson
Rajiv Deshmukh, United States
Places Visited: Rajasthan Tour - Jaipur and Ranthambore

Hello Savion Team

The trip worked out well

I would highly commend the Jaimahal hotel Taj Sawai madhopur lodge

And the car and driver ( mr Ranjeet is excellent )
And the Jaipur day guide (Mr Khatri is very good )

However
The local guide for the Park safari in Ranthambore
The park guide did not speak do or say anything for the first safari
The outside English speaking guide on the second dAy morning was excellent

Lastly we were disappointed with the shopping/ crafts section of the Jaipur local sightseeing day
Jaipur Handicrafts is overpriced and the sales person tried to cheat us and was blatantly dishonest
The Blue pottery shop had a reputation for artistic awards but the actual items were very poor quality and not attractive
The Gem place was way overpriced as well
The Jai mahal hotel concierge had much better recommendations

Thanks
Rajiv Deshmukh
Nooreena, United Kingdom
Places Visited: Taj Mahal Tour

Morning,

I just wanted to send a quick e-mail to say thank you.
The tour was fantastic, and me and my husband really enjoyed ourselves.
The driver was really good and accommodating, we enjoyed both of the routes which were taken.
The guide was also fantastic, his knowledge of the tour was great and he was able to help us with all of the other questions we asked him too.

I would definitely recommend this tour and our guide.

Thanks again

Mr and Mrs Badal
Reinhold Stuhr, Germany
Places Visited: Kerala Nature Tour - Cochin, Munnar, Thekkady, Alleppey, Kovalam, Trivandrum

Dear Vishwa Malasi,

we had a wonderful tour through Kerala. Very good hotels and Tom, an excellent and helpful driver. We will book with your company again the next time to amazing India.

So many thanks to you as well.

Regards from Munich,
Reinhold Stuhr
Alison Jones, United Arab Emirates
Places Visited: Meerut Tour (Nayee Asha)

Hi Savion,

I just wanted to thank you for the excellent service of your drivers. They were both punctual, polite and very helpful in getting us to Nayee Asha and back to the Airport safely. We will recommend your services to others who are visiting Nayee Asha and will have no hesitation in using your company again.

Kind regards, Alison

Alison Jones

Secretary
Ashurst - Dubai
Fahmida, United States
Places Visited: Srilanka Tour - Colombo and Mirissa

We have just got back from srilanka trip:.. It was my 3rd time with this travel agency..my kashmir trip was arranged by Savion team excellent sercices he had provide me..friendly,very helpful just superb.

This time gaurav introduced me Mr,Risto for my srilanka trip:.once again we r satisfied with him and savion:-) Risto suggested me some very good resorts in mirissa. . In mandara .we had stayed. Awesome resort exactly whatever we wanted:

Thank u Risto. ..wonderful job u have done. thumbs up for u:-)

Guarav thank u for ur help.

God bless u guys.

C ya soo...

Fahmida & Irfan
James D. Brys / Anita Richardson Bryce / Isabella, United States
Places Visited: North and South India Tour - Delhi, Periyar, Kumarakom, Alleppey, Quilon, Cochin, Goa, Mumbai, Udiapur, Jodhpur, Pushkar, Jaipur and Agra

Sorry to be late responding. It has been a very busy month since we returned.

The trip was fantastic. All your arrangements went as planned. Your staff met us at airports, drivers delivered us where we wanted to go, guides showed us the sights. Hotels were wonderful.

We would note particularly the driver in Mumbai, Hussein Ali, who was more knowledgeable than the guide (not one of your regular guides, a free-lancer who was retained when your regular guide was otherwise occupied). Also, Mr. Kishnan, who drove us through Rajasthan. Not much English, but an excellent driver both on highways and in the towns.

As to constructive suggestions: the houseboat was not that luxurious­it fell far short of the hotels we stayed in. But the food was good; nothing like stopping by the canal to buy fresh langoustines that were cooked to perfection. We liked the Radisson Blu, but wish it had been closer to the old cities in Goa.

It was a pleasure working with you. You had a proposed itinerary shortly after I contacted you and you were always quick to modify per our desires. As I said above, the hotel selections were outstanding.
Dr. R.K. Gupta and family, United Kingdom
Places Visited: Rajasthan Tour - Delhi, Agra, Jaipur, Pushkar, Udaipur, Jodhpur and Jaisalmer

Hello Savion team,

We had a fabulous time on our two week Rajasthan trip. The driver, Durgesh, was excellent, very accomodating and very willing. He took us to restaurants in the evening and picked us up again to return us to the hotel. We tried to make sure that he was not kept up too late in the evening. Durgesh had a very pleasant manner and looked after us extremely well. I can only praise him very highly.

it was very comforting to see Sissir at the airport on our arrival from the UK and on our arrival at Delhi from Jodhpur. He was very personable and took excellent care of us. Please pass on our grateful thanks to him. It was good of you to arrange for him to come and take us to the airport on our departure on the last day, and see us off. Thank you.

The guides as always, were a little mixed in ability and communication. There were the very good, the good and the not so good; but I guess that is normal. Can I suggest that the feedback form for the guides should be confidential and should not be given back to them. One feels very reluctant to give a rating that's less than excellent, because guides would always query it. Perhaps a stamped, addressed envelope could be provide for the client to post the report form back, after he has completed it. It makes more sense. One can be more" honest" and give a true appraisal. As it is at present, the feedback is quite meaningless.

We are thinking of coming to India in a couple of years . There will be eight of us. How do you think that can be managed? What sort of car/carrier would be available for that number? I would prefer for all of us to be in one car.

Do for a two week tour including 5 star hotels, like we did this time, what do you think the approximate cost would be? I just want a very rough figure based on present pricing; I appreciate the cost will be more in a couple of years.

As for pictures, when my son has sorted out and edited his photographs I will endeavour to send you some for your website.

Meanwhile, with kind regards.
Dr. R. Gupta
Louise Parry & Steven Roden, United Kingdom
Places Visited: India & Nepal Tour - Delhi, Kathmandu, Pokhra, Chitwan, Shipatinagar, Varanasi, Khajuraho, Agra and Jaipur

Hi Savion,

we were overall very satisfied with savion travel and really enjoyed our India/Nepal tour. we seen I lot of amazing things and our guides were knowledgeable, friendly and helpful.

Things ran like clockwork, people met us where they were ment to and looked after us.

We feel the only parts that were not to standard as the rest was Kingston park hotel in Delhi as on our first stay the hotel room smelt, showers were cold, breakfast was cold, not great choice and a lot of ants around the food area.

As we crossed over the boarder to stay in Shivpatingar. There was no representation just the taxi driver met us and was an hour late. He couldn't find our hotel, stopping several times to ask people. Then in our drive to Varanasi he find of fumbled his way through it, again couldn't find the hotel and unable to find us rest rooms at times.

Special thanks to Sandeap who met us in Delhi and helps us out with a problem.

Louise parry
Steven Roden
Belinda Periera, Canada
Places Visited: Golden Triangle Tour - Delhi, Jaipur and Agra

Dear Savion

We are back in Canada and my husband and I would like to thank you for arranging our tour to the north. It was a wonderful trip. The hotels were good, the Savion representatives, drivers and guides were all very polite courteous and helpful. Being picked up and dropped from the airport, railway stations and the hotels also made it very safe for us.

My husband and I would also like to thank you for going half way with us on the fare from Agra to Delhi. Thank you for your understanding.

God willing, we would like to do another tour of the South two years from now and we would like to do it with Savion travels. I have all your coordinates and will get in touch with you when the time is right.

Thank you again and best wishes to you and your family.

Belinda and Isaac Pereira
Nilu Khader, India
Places Visited: Maharashtra Tour - Nashik, Aurangabad, Pune, Mahabaleshwar, Chiplun, Ratnagiri and Murud

1.ACCOMMODATION : Accommodation was arranged in 3 hotels and 4 resorts.

The hotels were
1. Hotel Llily Ssarovar in Nashik - 1night
2. Hotel VITS in Aurangabad- 3 nights
3. Hotel St.Laurn in Pune- 2 nights

The rooms in all the three above hotels were very good, comfortable provided with coffeemaker and other amenities ; we had good quality sleep. Service, on the whole,was prompt and quick and the staff very courteous, helpful and friendly.

The breakfast provided in these 3 hotels was also good- varied, sumptuous and tasty. We enjoyed our stay in these three hotels.

The resorts where we were put up were
1. the United 21 resort at mahableshwar- 2 nights
2 .Quality river-view resort, in Chiplun- 2 nights
3.Tranquility beach resort, Ratnagiri- 1 night
4. the Golden Swan resort, Murud- 1 night

Among the 4, the best was the Riverview resort . We are veteran globetrotters fotr the past 20 years, and I wil unhesitatingly rank this resort as one among the top- beautiful, spacious rooms, with all amenities, large green grounds with landscaped terraced gardens, and an enchanting view of the river Vashisti- not to mention the most courteous and friendly service of the staff.

At Mahableshwar, the resort was beautiful with green foliage and garden, a good restaurant and friendly service, but the rooms were small and cramped with no space to move around and such a small corner toilet in the bathroom.

So was the case with The Golden swan Resort.

The worst was the Tranquility beach resort. We had been warned that the accommodation was of the camping type but we had not expected it o be so badly managed. The bed was most uncomfortable, with no proper sheets and good quality blankets.So much so, sleep quality was very poor. No room service, no phones and no light in the bathroom. We were happy to leave the resort the next day even without breakfast .

The most memoable part of our travel was to see the World Heritage sites -the Ajanta and Ellora caves in Aurangabad. Our stay in Aurangabad was. made more memorable by the guide, Mr. Amod- an exceptionally good guide who for 2 days, travelled with us, sharing a bit of his vast knowledge, showing, guiding us to all the spots worth seeing and besides helping us to shop for himoroo shawls.We were so pleased with his servces that we paid him a handsome tip when he bade us goodbye.

THE CAB and the Driver:

The cab provided to us, Tata Indigo, was comfortable.

The cab driver Mr. Bhagwandas More, a good driver, but a bad navigator. The main drawback was that except in Aurangabad,his native city, he was not able to drive us to the various spots which were in the tour itinerary. It was not only his diffidence and shyness, but lack of preparation to plan beforehand the routes for the sites, that made him to commit many blunders . As an intelligent cab driver, he should have planned the routes the previous day with the help of road maps, and proper enquiries. He was quite unaware of the sightseeing spots mentioned in the itinerary and in many places on the highway, he took the wrong turns, and then retracing, causing delays..On the last day while returning to Mumbai to board the flight, there was a bad traffic jam at the outskirts of the city and when we entered the city we were shocked to note that he was not well versed with the topography and was taking us in wrong directions and finally when we landed at the airport, we missed our flight to Chennai and had to purchase fresh tickets a by a later flight -also missing our connecting train journey back to Pattukkottai.

Except for the nightmare that we experienced on the last day, the tour was a pleasant one, thanks to the excellent arrangements made by you throughout our journey in Maharashtra.

Niloufer Khadar
Maria Teresa Valencia, Colombia
Places Visited: Bihar Tour - Delhi, Patna and Munger

Dear Savion:

I wanted to thank you for the great service we recieved during our last trip to India. Everything was perfect, the driver in Patna couldn't have been better and also the pick ups at airports and hotels was always on time.

Thank you again and we will keep on recommending your services to all people interested.

Best regards,
María Teresa Valencia
Alicia de Sinisterra (Sw Yoganubhuti), Colombia
Places Visited: Bihar Tour - Delhi, Patna and Munger

Hari Om Savion Team

Thankyou for your e-mail.

All my trip went fine and your service was excellent.

I will not hesitate to ask for your service in my next trip to India.

Namaste
Sw Yoganubhuti
Alicia de Sinisterra
Hemavathi Murari, India
Places Visited: Goa Tour

Dear Mr.Risto,

The trip was wonderful. Thanks for giving us a very good hotel and infact it was a great stay as it was very near Cavolessium Beach (might be 5 mins walk from our room).

Regards,
Hema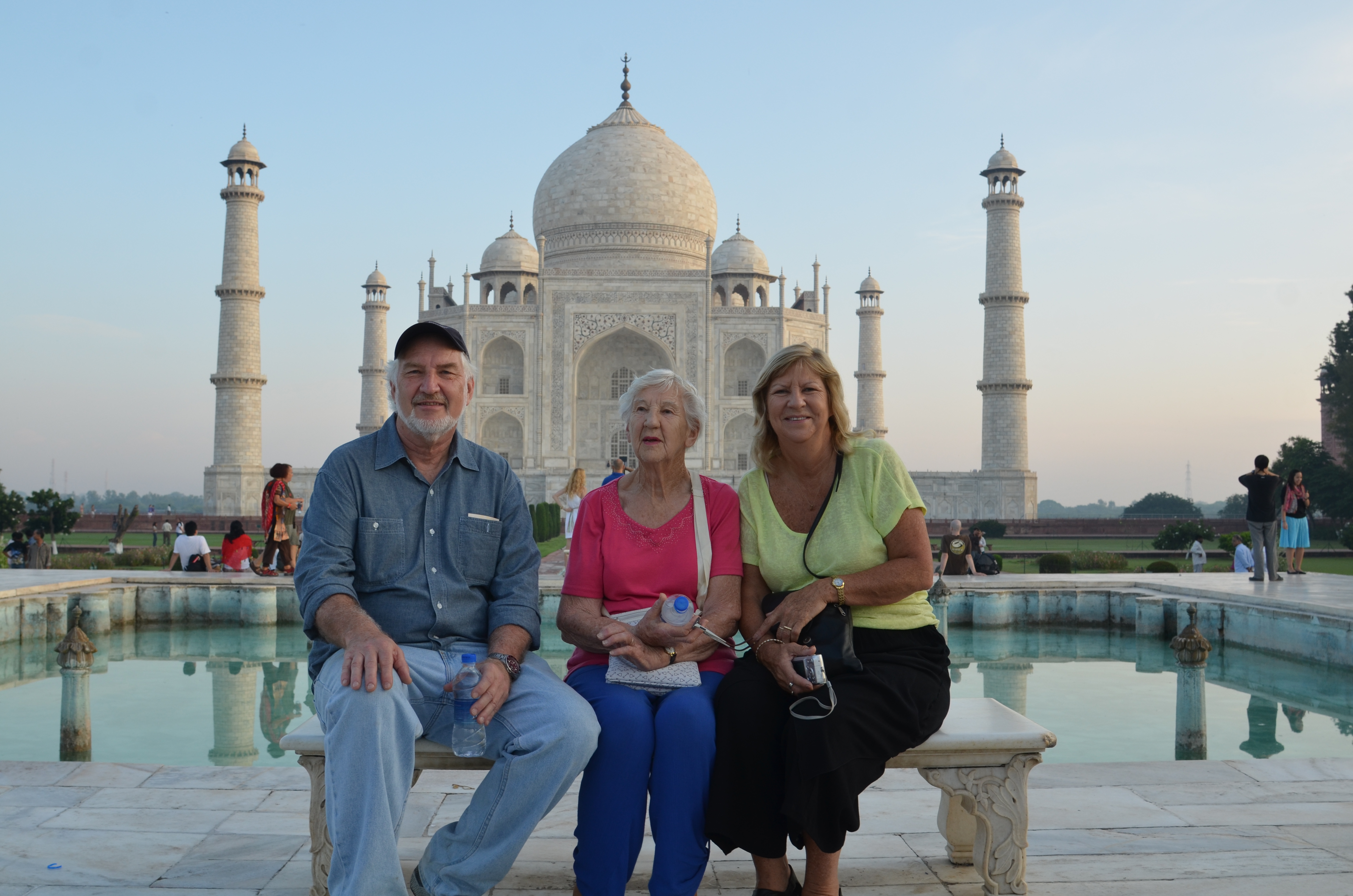 Ron Searle, Qatar
Places Visited: Golden Triangle Tour - Delhi, Agra and Jaipur

Guarav,

Thanks so much to Savion for a memorable and enjoyable holiday, Jaipur and Agra are must see locations. I certainly recommend your company and hope to use it again.

Ron
Qatar
Catherine Gallacher, United Kingdom
Places Visited: Golden Triangle Tour - Delhi, Jaipur and Agra

Dear Sir,

Golden Triangle Tour 2nd-10th April

We had a wonderful time in India thanks to the amazing staff of Savion Travel.

The holiday was great from start to finish. Everything was so well organised, hotels were perfect,guides very informative, caring contact people and efficient drivers.

Delhi
Thank you to Mr Mehdi for colecting us/taking us to airport/train stations. He iwas very kind,caring,helpful and wise for someone so young. He looked after us so well. Our guide, Mr Kumar, made our sightseeing very enjoyable as he gave detailed descriptions of each site we visited and brought Delhi to life. Our driver in Delhi was extremely efficient.

Jaipur
We gave feedback for this in Jaipur but can we give an extra special thanks to the Savion representative and driver who found a bank where we could cash our Scottish pound notes and delivered us safely to/from the station.

Agra
We gave feedback in Agra and yet again the rep was very helpful and efficient.

The itinerary planned for us was perfect and exactly what we wanted for our trip. Thank you so much for organising this memorable visit to India and we will be recommending Savion Travel to any friend sor family visiting your country

Kind regards to all involved,

Catherine Gallacher
Anne Murdoch
Elizabeth Jacovelli
Karl O' Leary, Ireland
Places Visited: Wildlife Tour - Kaziranga, Ranthambore and Delhi

Dear Sir/ Madam,

this email is to say a special thanks to Savion for two wonderful safaris in March 2013.

Gaurav of your Delhi office was a pleasure to do business-with for my wife Margaret, who organised the trip with his help.

His courtesy, reliability and attention to detail were A1!

May I also pay special tribute to Mr Ringu in Assam, who was most efficient and particularly knowledgeable and good company.

This has been my second Indian safari trip with Savion and I would not hesitate to book with you again and to recommend you to my friends.

My sincere thanks and regards,
Karl O Leary
Limerick
Ireland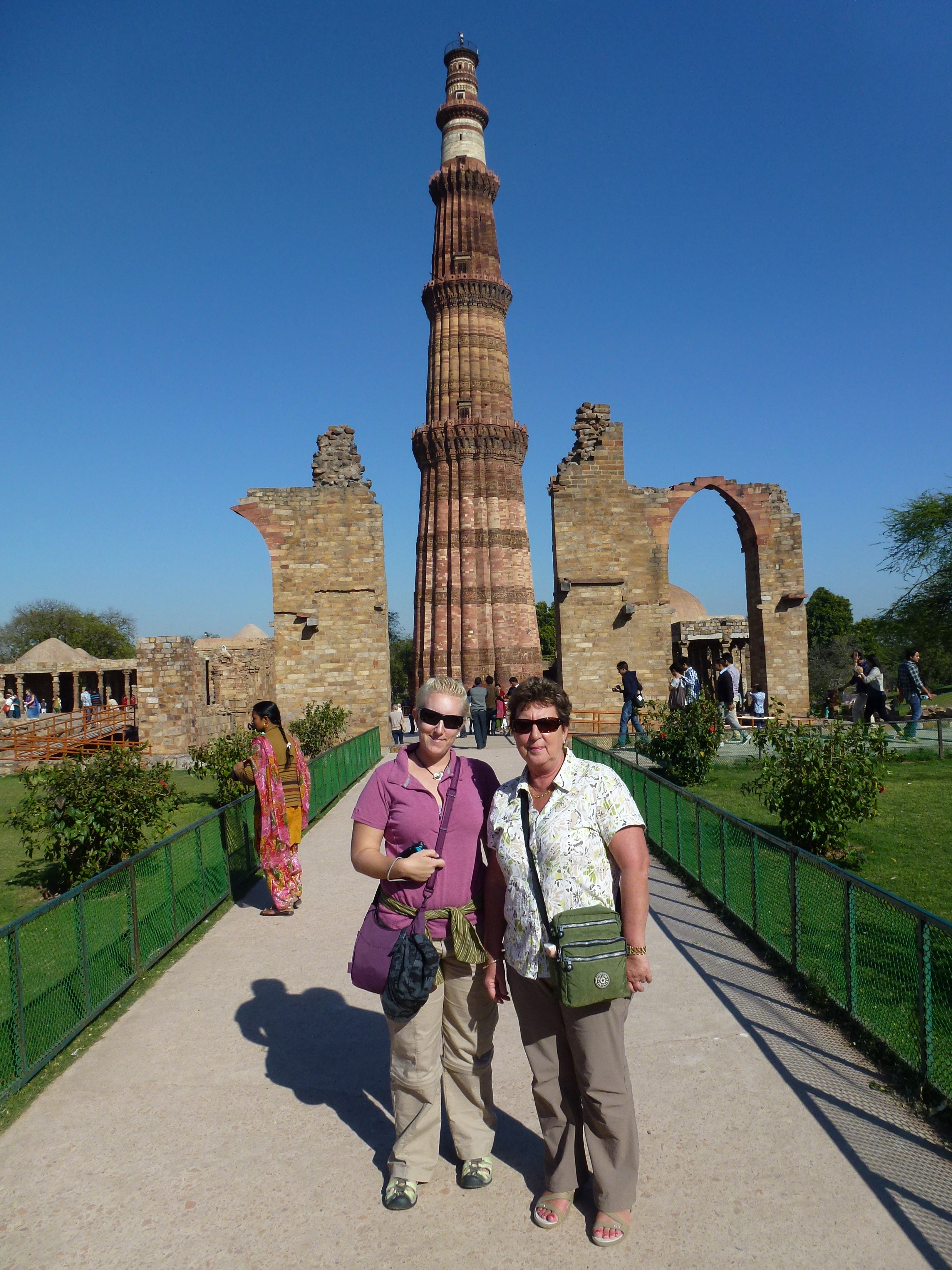 Cheryle Medcalf, Australia
Places Visited: India Tour - Delhi, Varanasi, Khajuraho, Orchha, Gwalior, Agra, Bharatpur, Karauli, Jaipur, Pushkar, Khimsar, Jaisalmer, Jodhpur, Udapur & Mumbai

Dear Savion team,

We have just returned from our 28 day tour through Rajasthan. I just wished to inform you that I was extremely impressed with your service throughout this time.

Both my daughter and myself had a fabulous time in your country.
I believe that trip was made all the more special because of the wonderful driver provided to us. Gajendar was an extremely competent driver, he was always polite and well mannered. He would arrive every morning, on time, and was always very well groomed. He was a delightful person and fun to to travel with.
He is certainly an asset to your company. Please send our very best regards to him.

Thank you once again.

Kind regards,
Cheryle and Bree Medcalf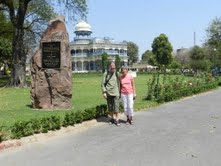 Stephen Spencer, Finland
Places Visited: India Pilgrimage Tour - Delhi, Haridwar, Varanasi and Allahabad

Dear Sirs,

We arrived back home after the wonderful experience of your Ganga Tour.

We would just like to thank you for your very professional service and planning that went into making the tour a success. Special Thanks to Mr Syed Mehdi in Delhi who went out of his way to make our tour both interesting and enjoyable. Also special thanks to Mr Satish Sharma our guide in Haridwar who made sure we did everthing we wanted to do and more. We will be giving our comments and recommendations on The Trip Adviser site shortly.

An unforgettable life changing trip!!

Regards
Stephen & Tarja Spencer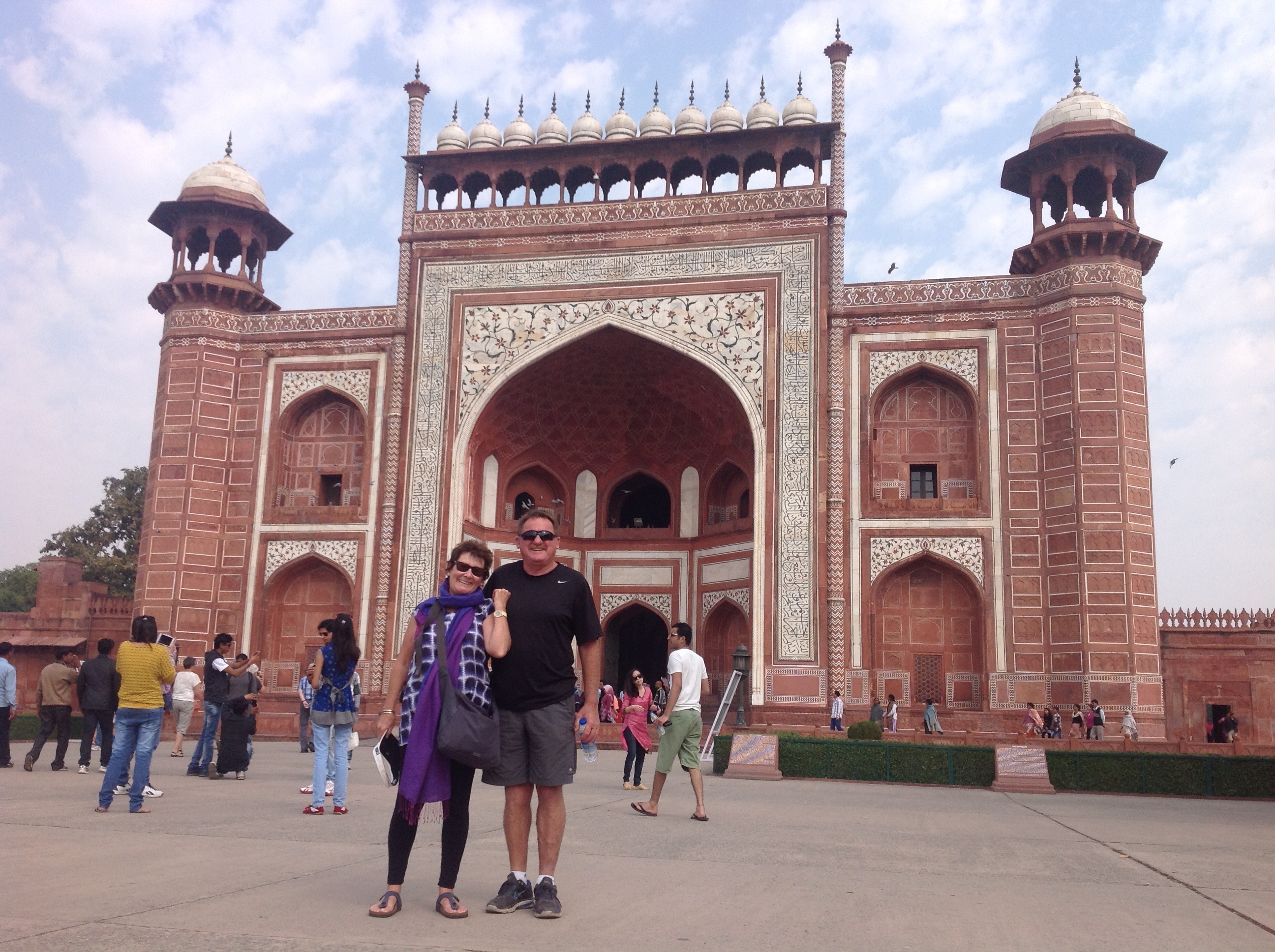 Jenni Jago, Australia
Places Visited: India Tour - Delhi, Varanasi, Agra, Jaipur, Mysore, Coorg, Conoor, Cochin and Goa

Dear team,

Don and I would like to thank you very sincerely for all the advice and help Savion afforded us for our amazing trip in India. Nothing appeared too hard for the Company to help us and everyone who we had as reps drivers guides etc were fantastic.

Thank you for all the changes we made. That seemed effortless by Savion If I had to do it we probably would still be on the train etc.

I think that I would like to return to Rajhastan I think I missed out on some amazing places there. We enjoyed every place we saw but specifically Varanasi as it was so so different.

Our accommodation was very good (except Jaipur which I picked) too many stairs and insufficient cleaning. Our guides were super each of them went way beyond our expectations. Two unfortunate days in thirty five is not bad Mumbai and Varanasi mix ups were minor.

Thanks again jenni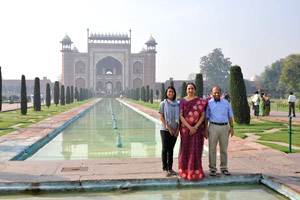 Sasiprabha Padmanabhan, United States
Places Visited: Golden Triangle with Ranthambhore Tour - Delhi, Agra, Rathambore & Jaipur

Hi,

We are back home after our trip to Delhi, Agra, Rathambore and Jaipur.

I would like to give you a feedback on the services we received from you last week. Overall, we had a very good trip.

The representative who met us at IIC at Delhi was pleasant and he explained what we were going to expect over the next few days. The tour guide in Delhi was very knowledgeable and informative.

We had a very bad experience in Rathambore with the tour guide you had arranged for us. His name is "ASEEM" and he had no knowledge of the history or anything about the park. He was of no value at all to us or to any of the other tourists. He was sitting in the jeep and listening to music on his phone. He kept talking with his face toward the road and none of us could hear him. He had an accent and we could hardly understand him. The jeep driver who took us on Thursday on the morning safari was the one who gave us information about the forest and other interesting facts. You should really hire someone who is able to interest the tourists with the information about the reserve and make it interesting so that even if we are not able to spot a tiger, we can go back with good memories and facts about the reserve. We were assaigned to go to zone 6 twice and I do understand that it is the park officials who decide on it and no one else has a say in it. But, on the first day, we drove to one zone first and then the driver turned around went to another area and the tour guide told us that he had given money to the park official and changed to a different gate since there is more chance of seeing a tiger in that area. I don't know if he really did it and even then, it is not the honest way and it looks bad when tourists from other countries find out that he has given a bribe. He is not proffessional at all and we were not impressed with his services. The reason I am mentioning it to you is to make sure you know about it so that it doesn't reflect on the image of your company in the future. My intention is not to cost his job, but for you to make sure he gets trained to give proper services or to switch to some other agency who could give better service.

The guide from Agra and Jaipur gave us a feedback paper to fill out but Mr. Aseem never gave us any paper.

The tour guide in Jaipur was very efficient and informative and we were impressed with his services.

The driver Mr. Narender was excellent. He was very polite, decent and friendly and a very safe driver.

The hotels were all very comfortable and we were very happy with our stay everywhere.

Thanks again for arranging a good trip. Please look into the guide services in Rathambore so that other guests from your company are not disappointed in the future.

Yours,

Sasiprabha Padmanabhan

Dr. Raghupathy Sarma & Group, United States
Places Visited: Sri Lanka Tour - Dambulla, Kandy, Nuwara Eliya & Colombo

Hi,

We have returned from a very enjoyable tour of Sri Lanka. All the arrangements, travel, hotels etc were very very good. Aitken and Spence is a very good travel service and we were lucky to have the services of one Prasanna, who was an excellent driver and a caring tour guide. All the hotels were of excellent quality, Taj Samudra was disappointing, the rooms needed renovation. and work on renovation was going on just above our room late into the night. After repeated calls it finally stopped. Taj Samudra should not give rooms in the wing of the hotel where renovation is going on. We wish to thank you for all the arrangements you made. Please be assured that we will gladly recommend your services for the Sri Lanka trip to all our friends who are interested. Thank you again.

Dr. Raghupathy Sarma

Christelle Mcdermid & Group, South Africa
Places Visited: India Tour - Delhi, Varanasi, Agra, Jaipur, bikaner, Jaisalmer, Jodhpur, Udaipur, Mumbai, Aurangabad, Cochin, Munnar, Periyar, Alleppey, Kovalam

Good Day,

I would just like to thank everyone at Savion Travel Agencies for a fantastic holiday.

You really did a great job and my family and I had a wonderful time.

Thanks to all the guides who where all very knowledgeable (especially the one in Dehli and the one in Varanassi) and our driver, Milap who drove us from Agra to Udaipur. (He was brilliant)

All our hotels were also top class and everybody everywhere did their level best to accommodate us.

I will definitely recommend India as a destination as well as Savion Travel Agencies!

Thanks again, we had the best holiday!

I hope to visit your beautiful country again, Himalayas here I come!

Kind Regards
Christelle Mc Dermid
(South Africa)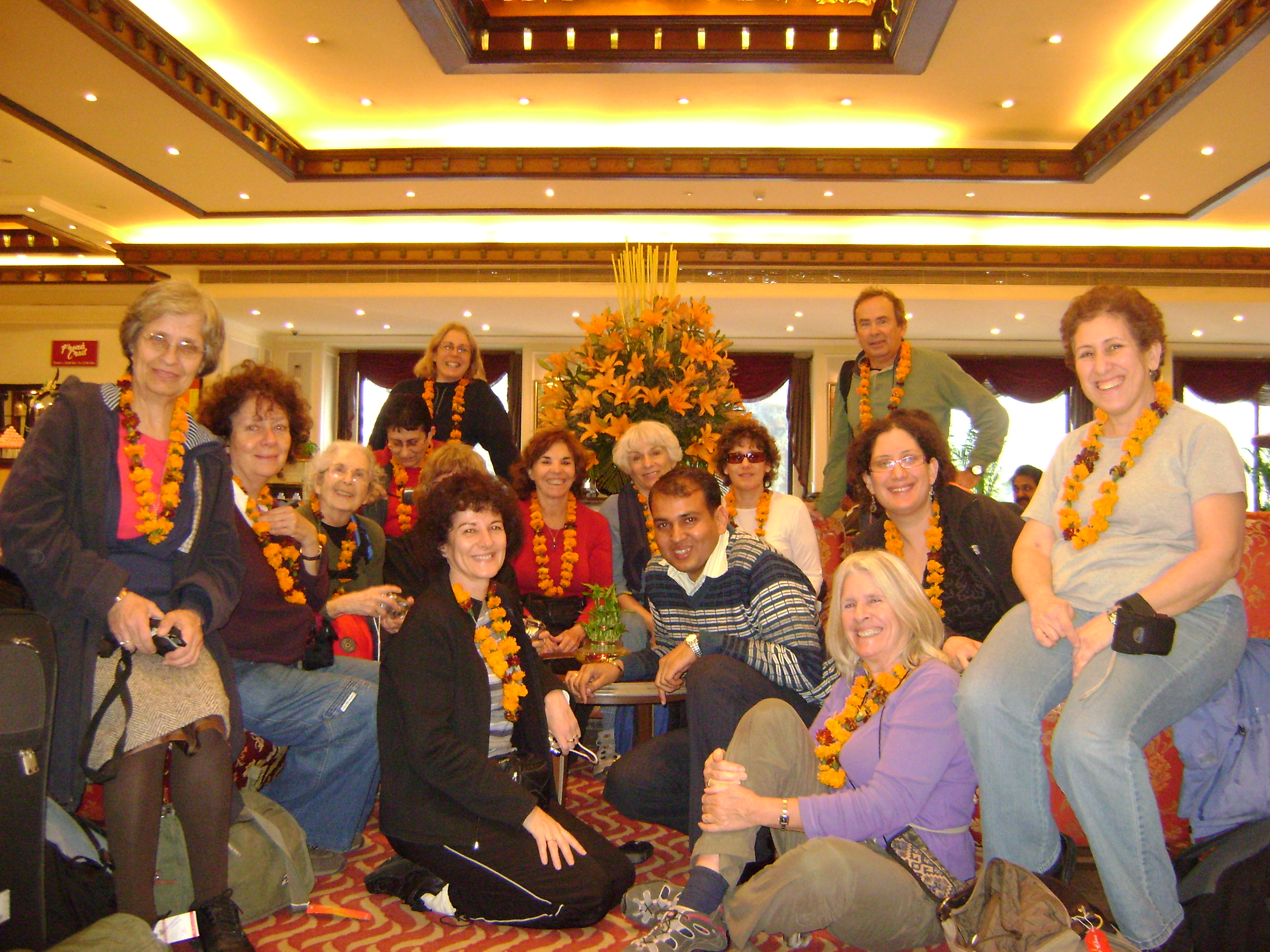 Rachelle Oseron, Israel
Places Visited: Delhi, Haridwar, Rishikesh, Varanasi, Agra, Jaipur, Pushkar - India

Hi,

Namaste.

Firstly, it was wonderful to finally meet you! I'm glad that now I can put a face to the e-mail.

Secondly, I wanted to thank you for all your hard work on behalf of our group. It was a tremendous success and they want more! We gave out our own evaluations to the group and, without exception, they rated your travel company with the highest marks.

I know that you worked very hard to put this group together and you went out of your way to make sure that everything went well. Everyone really appreciated the upgrade to 5 star hotels in Delhi but now I'm worried that we've set a precedent! Those hotels were really beautiful.

I'm so glad that we switched Rajeev for Sanjay to be our escort. Rajeev is a wonderful guide and we enjoyed him very much, but Sanjay is an outstanding escort and I can't imagine doing the trip with anyone else. Everyone in the group loved him and he was a big part of the success of the trip.

The trip we did is the perfect itinerary for first-timers. I have heard from many people who were unable to go with us this time, including many people who live in America, that they want to do this itinerary next year. In addition, our group would now like to do a trip to either the north of the country or the south. It's possible that we may do 2 trips next year - in February for first-timers and in September/October to the north.

I was so happy with the services provided by your company. I'm sure that the participants gave you constructive feedback, as they gave us in our evaluations, so that we can do an even better trip next time.

I'll give you a few weeks rest from my incessant e-mails and then we'll start to plan for future trips.

Thank you again for everything.

Warm regards,
Rachelle.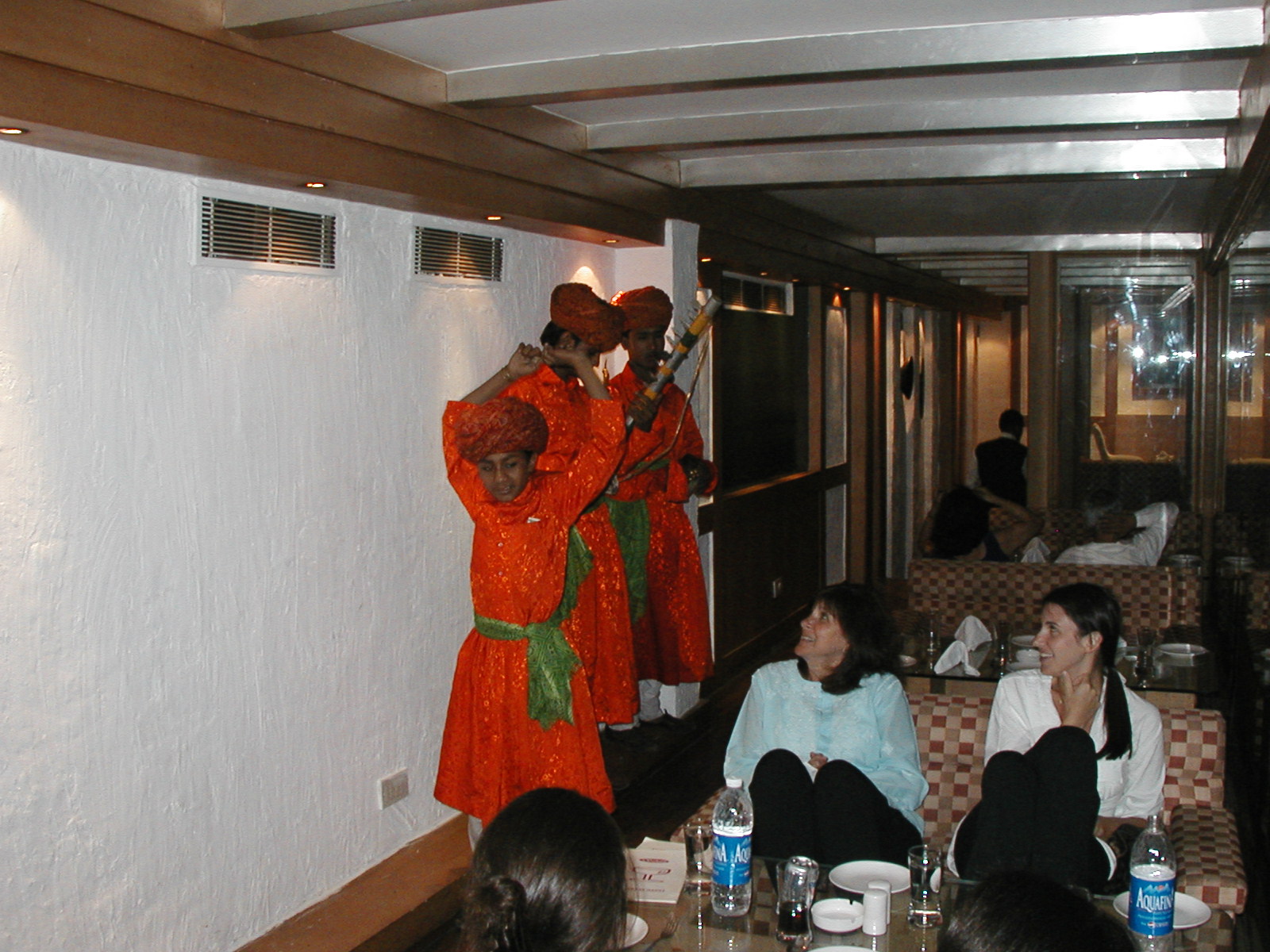 Francie Pinkwater, United States
Places Visited: North India Tour

Hi,

just wanted to thank you for an amazing experience. Arrived home safely this morning. The whole trip ran so smoothly, other than the fire in Kharajaharo and the move to the somewhat creepy Holiday Inn, but out of your control. The representative was there in 2 min. to help us out. You are a top notch group and would highly praise you. The drivers were so nice and the guides so informative.

Once again thanks for making India so special. I am now in 18 degrees C cooling down.
Francie Pinkwater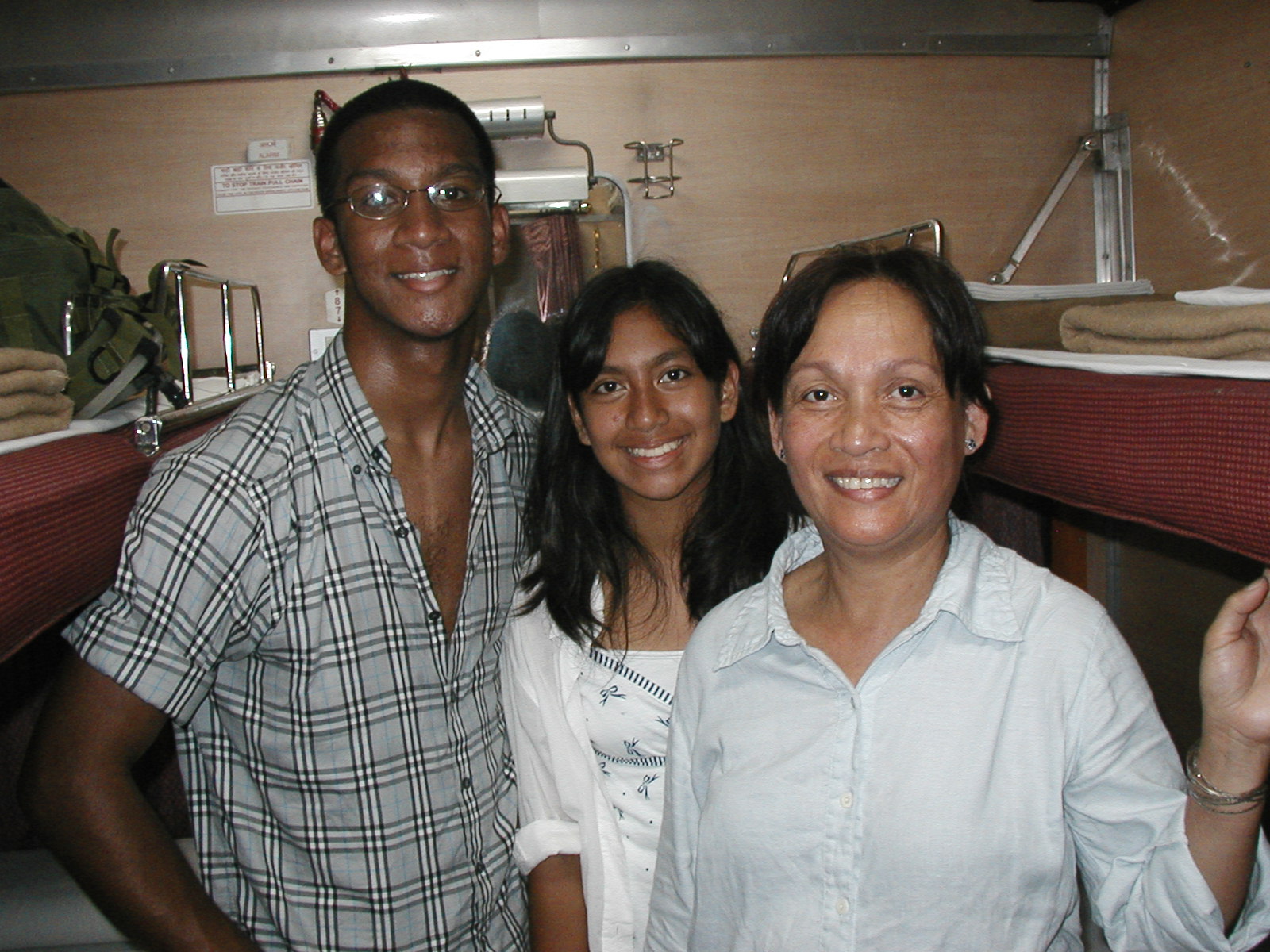 Henry Roy, Canada
Places Visited: North India Train Tour

Savion Travel Services arranged a tour of Rajasthan for me and my family this past summer. Their organization was excellent and everything was very well planned and exceeded my expectations. They are very professional and go out of their way to satisfy the customer. ...

... We were very happy with our trip and the cost was very reasonable. Anything we did not enjoy or did not meet our expectations was out of their control. ...

... Surrender, Neeraj and Sanjay were my contacts. I only met Sanjay but spoke often on the phone with Surrender and Neeraj Sanjay was extremely professional, courteous and looked out for our well being throughout the trip with frequent follow-ups. ...

... The drivers that were assigned to us were again very experienced, professional and patient. And all spoke English and Hindi very well. ...

... In conclusion, I have no hesitation in recommending Savion and Neeraj and Iam planning another trip possibly in the near future.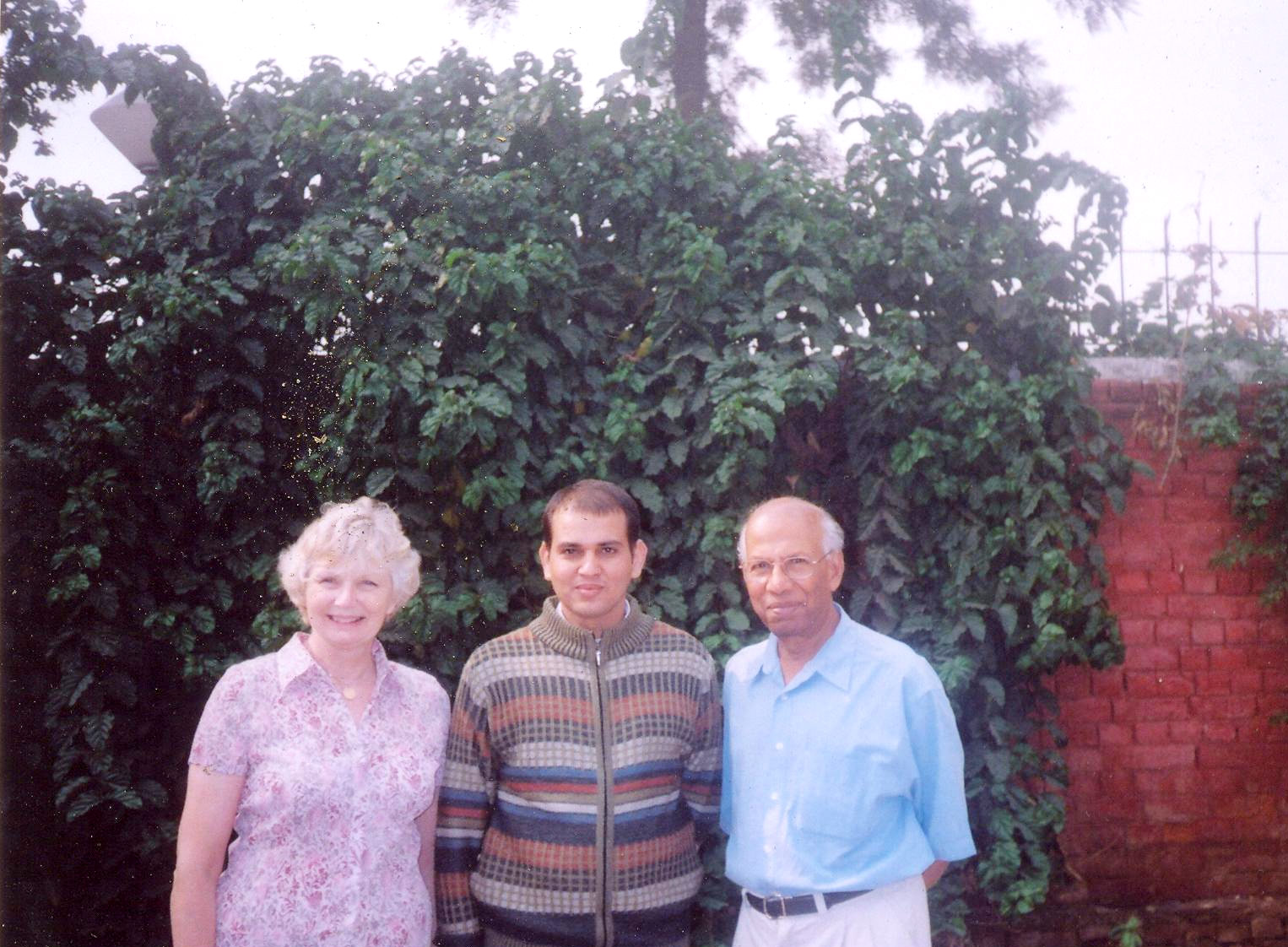 Patricia Krishnan, United Kingdom
Places Visited: North & West India Tour

Hi,

Dr. Krishnan and I would like to thank you both for organising our wonderful trip to India, also Sanjay but I will email him personally. From beginning to end everything went smoothly and just as you organised it. All our drivers were excellent and I would like to especially mention Raj who picked us up at Pathankot and left us in Chandigarh. He did a magnificent job on very difficult roads and was prepared to be at our beck and call 24 hours a day if necessary. Our guides also were first class and we learnt a great deal from them during our tours. As you know the only problem was with the "hotel" in Narkanda but fortunately we were able to return to the wonderful comfort of the Radisson in Shimla and spend one more day there seeing more sights that were of great personal interest to me. If by any chance you needed to send other tourists from the UK to Narkanda it would be possible to see it as a (very long) day trip as it is only 55km from Shimla and I am sorry that we were unable to enjoy the scenery there. Anil in Shimla also did a first class job and quickly re-organised our tour when we returned there at short notice and took personal care of us on several occasions.

You can rest assured that we will not hesitate to recommend Savion Travel to any of our friends and I hope you will get more business from our recommendations. The same applies to our daughter & son-in-law, Amit Gupta and Sarada Krishnan (Mrs Gupta). Thank you once again for your very professional care in organising our trip.

Farewell for now, Patricia Krishnan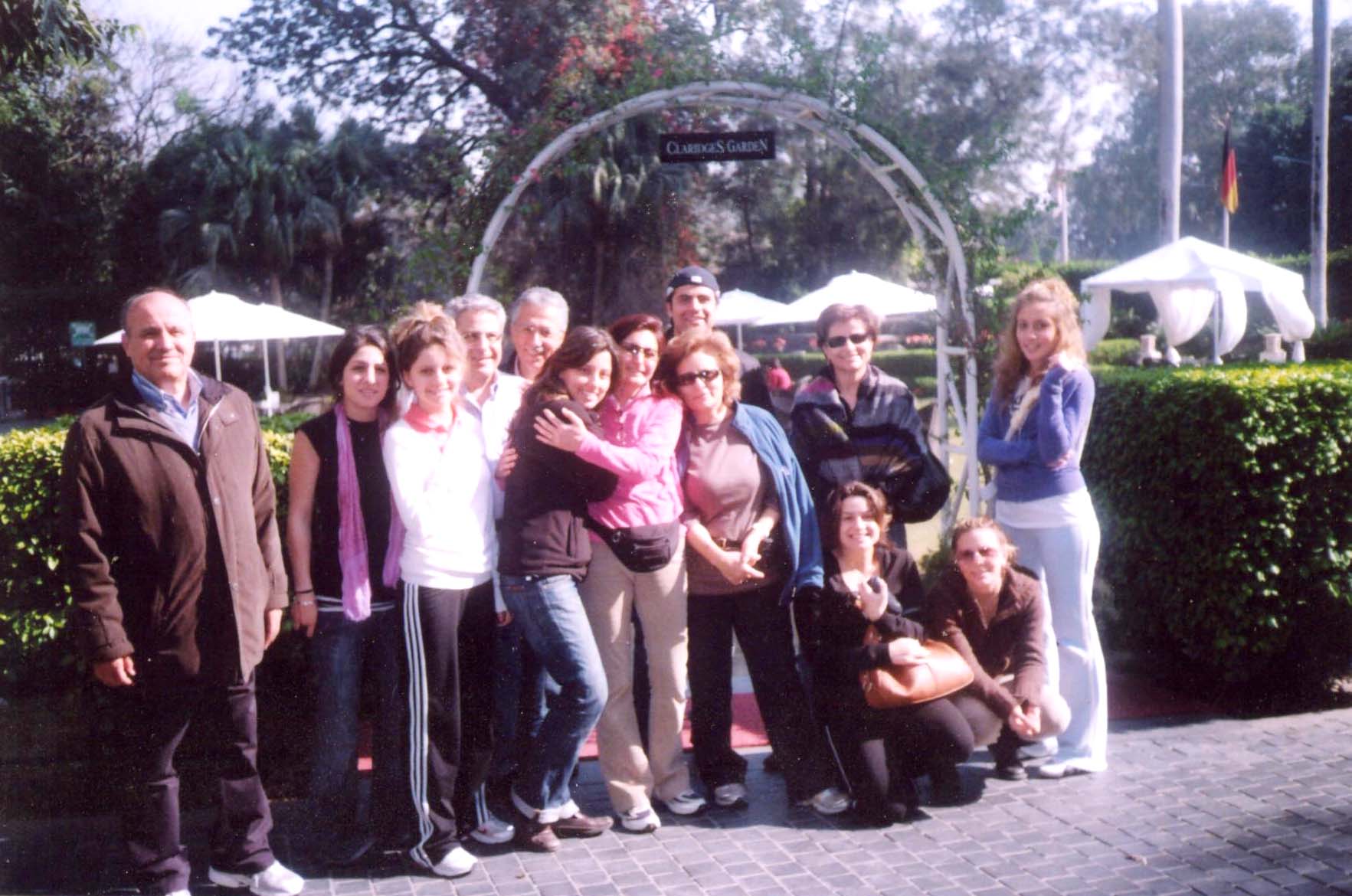 Ayman Majali, Jordan
Places Visited: Delhi & Agra, India and Nagarkot & Kathmandu, Nepal

Dear Sir,

Our experience with your esteemed travel company was excellent . The guides were polite and professional. The guide at Agra (Amarish) was very informed about the touristic sites and very polite. Also the guide at Delhi (Sanje) was also very helpful. The driver was professional (Erlok) and his helper was also very kind. The upgrading to Claridges was fantastic and the people at the hotel were very hospitable especially when they offered us a birthday cake for our daughters' birthday and gave breakfast boxes for early departure. The recommendation of the lunch at Agra (ITC Sheraton, the Mogul) was also very good.

Thank you very much for making our trip successful.
Ayman Majali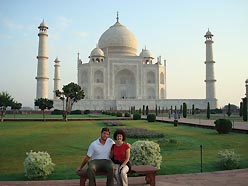 Rachelle Oseran, Israel
Places Visited: Delhi, Agra, Jaipur, Haridwar, Shimla - India

Hi,

I just returned home a few days ago. We were in Hong Kong and Thailand after India and I just returned on Sunday. I wanted to thank you for a wonderful holiday - my son and I both loved the trip. We very much enjoyed meeting Sanjay - he was very efficient, kind and helpful. As I filled out in my evaluation, we were very happy with the services provided by Savion Travel...

... I also really liked the Clarks Shiraz in Agra and Shahpura House in Jaipur. The Connaught Hotel in Delhi is ok - not wonderful, but I guess it's in a good location...

... Thanks again for a wonderful holiday and I'm looking forward to visiting India again with our group.

Warm regards,
Rachelle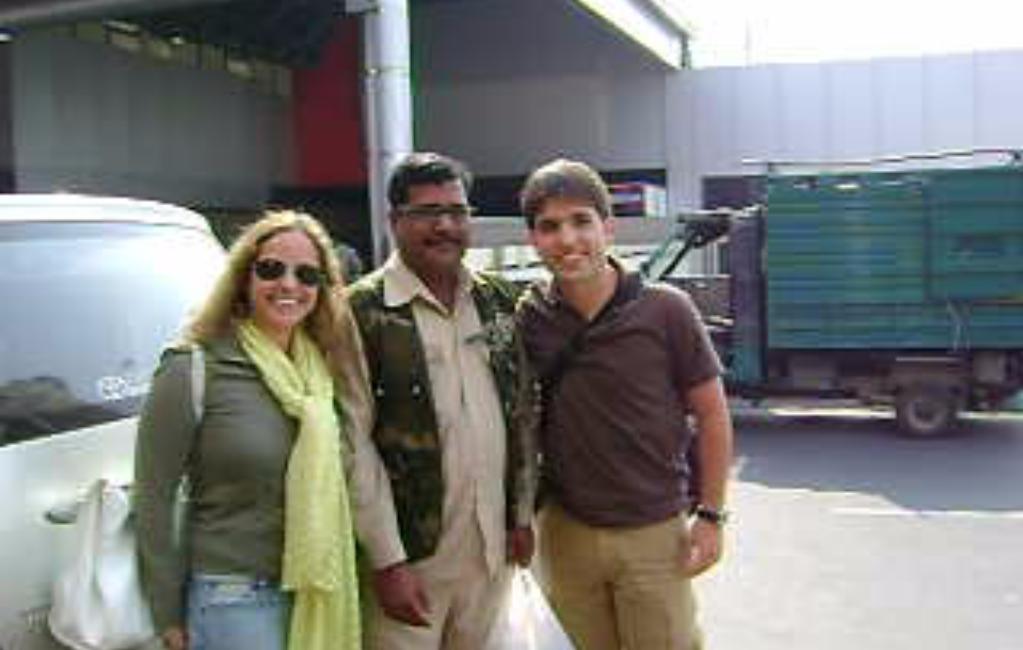 Natalia Colomer, Spain
Places Visited: Delhi, Udaipur, Jodhpur, Jaipur, Agra - India

Hi,

I would like to thank you for the great job your team did during our tip in India. Everything was very well organized and they were taking a lot of care of us. Specially. I would like to highlight that Neeraj was following up every day how we were calling us to the hotel to check if all was fine.

Furthermore, let me tell you although all of them were good (just small problem with the guide in Agra but nothing important) the guide in Jaipur was wonderful and our driver Nando as well, you should keep them!!

Thanks a lot,

Best regards,
Natalia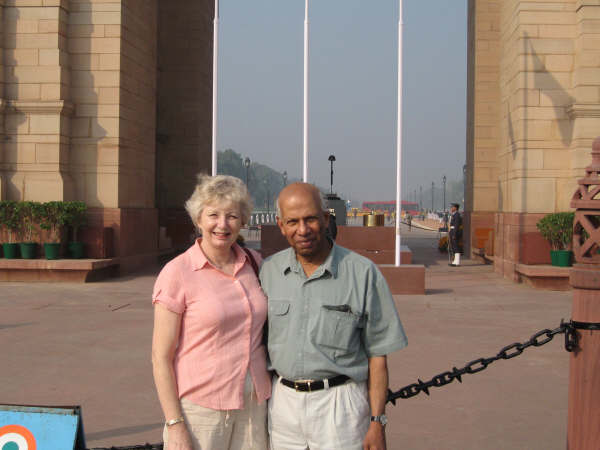 Patricia Krishnan, United Kingdom
Places Visited: Delhi, Agra, Samod, Ranthambore, Pushkar, Jodhpur, Mount Abu, Jaisalmer, Bikaner, Mandawa - India

Hi,

Once again I am writing with our thanks for arranging a marvellous, magical holiday to India. From the moment we arrived and were met by Sanjay, everything went to plan and we had wonderful accommodation throughout and particularly enjoyed our upgrades to The Claridges and The Imperial in Delhi. The service we received at all our hotels was exemplary, as was the attention we received from Savion Travel's representatives at hotel check in and check out. Although we had previously visited many of the sights, because we had our own personal guides this time, an extra dimension was added as we were given far more information and spent more time enjoying learning about our surroundings. All our guides were excellent.

We want to particularly thank our driver Sanjay who brought us safely back after driving us over 3000 kilometres coping brilliantly with India's multifarious traffic hazards and road conditions. He took care of us so well and our vehicle was always spotlessly clean. He himself was very knowledgeable and pointed out many interesting things and advised us well whenever we went shopping!

There were so many highlights to our trip that it is difficult to say what we enjoyed most but a first for us was the stay in the desert camp at Manwar which was incredible fun, especially the jeep safari and camel ride. The experience of staying in the Samode Palace Hotel was unforgettable too. Our room was superb as were our surroundings and we were given a personal tour of the beautiful original mirrored and painted rooms used by the Maharajahs - we ourselves felt like royalty!

It goes without saying that we would unhesitatingly recommend Savion Travel to all our friends and hope to use your services again personally. Thank you so so much for all the arrangements and highly professional care taken in the organisation of our wonderful trip.

Kindest regards,
Patricia Krishnan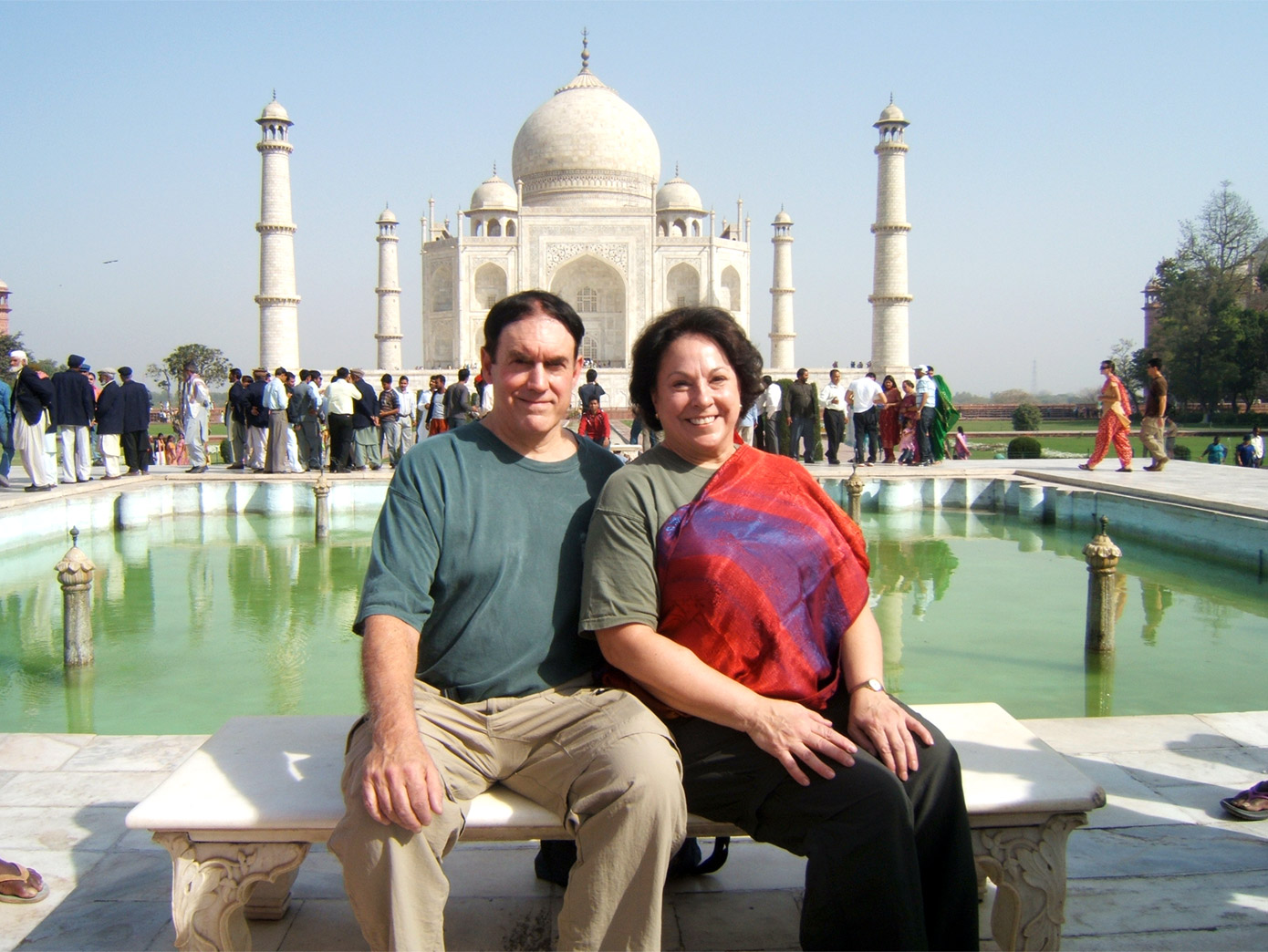 Jonathon Schuch and Pat Schuch, United States
Places Visited: Delhi & Agra - India

Hi,

I 'm sorry this thank you is so late. You and your associates did an outstanding job in coordinating our trip to Agra to see the Taj Mahal and other sites. Every detail was covered and we truly enjoyed our stay. I hope things are going well and we have already told many of our friends about our very positive experience with Savion Travel - mainly due to the excellent handling of every detail by Gaurav Khanna.

Please pass this note on to the rest of your team involved with our travels.

Warmest regards from Jon and Pat Schuch, Brighton, Michigan, USA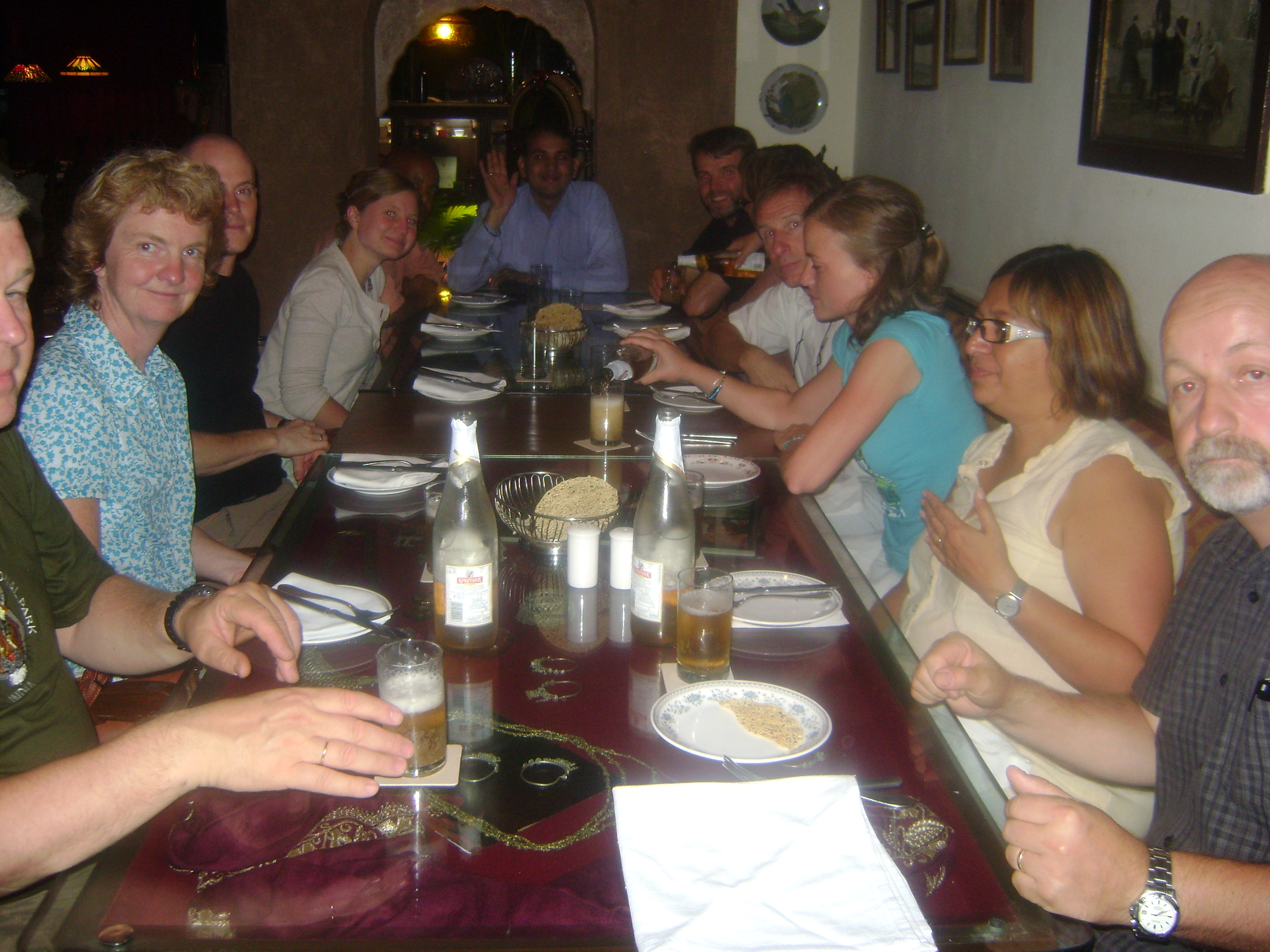 Kristian Asdal, Norway
Places Visited: Delhi, Banaras, Agra, Ranthambore, Chandigarh - India

Hi,

The Arendal Group arrived safely back home last weekend and I would like you to know we all had a fantastic time in India.
Although we had some (expected) incidents of Delhi belly, there were no other main incidents to reduce the excitement.

Our best regards to Sanjay who followed us closely all the way and made sure all the practical arrangements were taken care of. Thanks again!

Best wishes from

Kristian, Nishi and the rest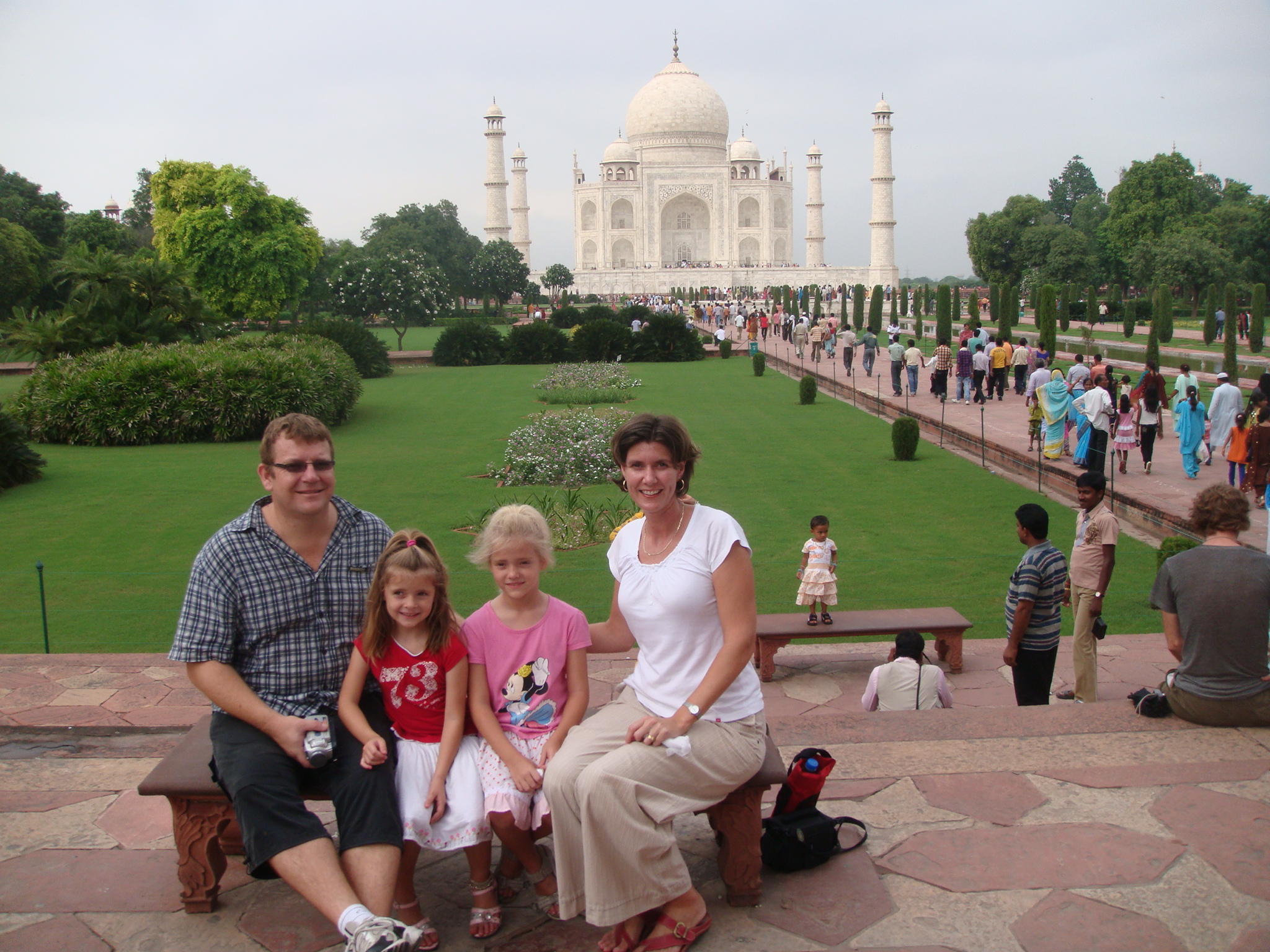 Holger, Karen, Jana & Katja Maul, South Africa
Places Visited: Palace on Wheels, Delhi - India & Kathmandu - Nepal

Hi,

We had a lovely holiday!

I would like to thank you and the excellent team that looked after us in Delhi. It was really good to see and know that Anupam and the rest of the team was allways waiting for us at the airport and assiting wherever they could.

The arrangements in Kathmandu were also excellent, the hotel is one of the best we have stayed in.

I will definitely recommend your service to friend sand other people.

Regards

Holger, Karen, Jana & Katja Maul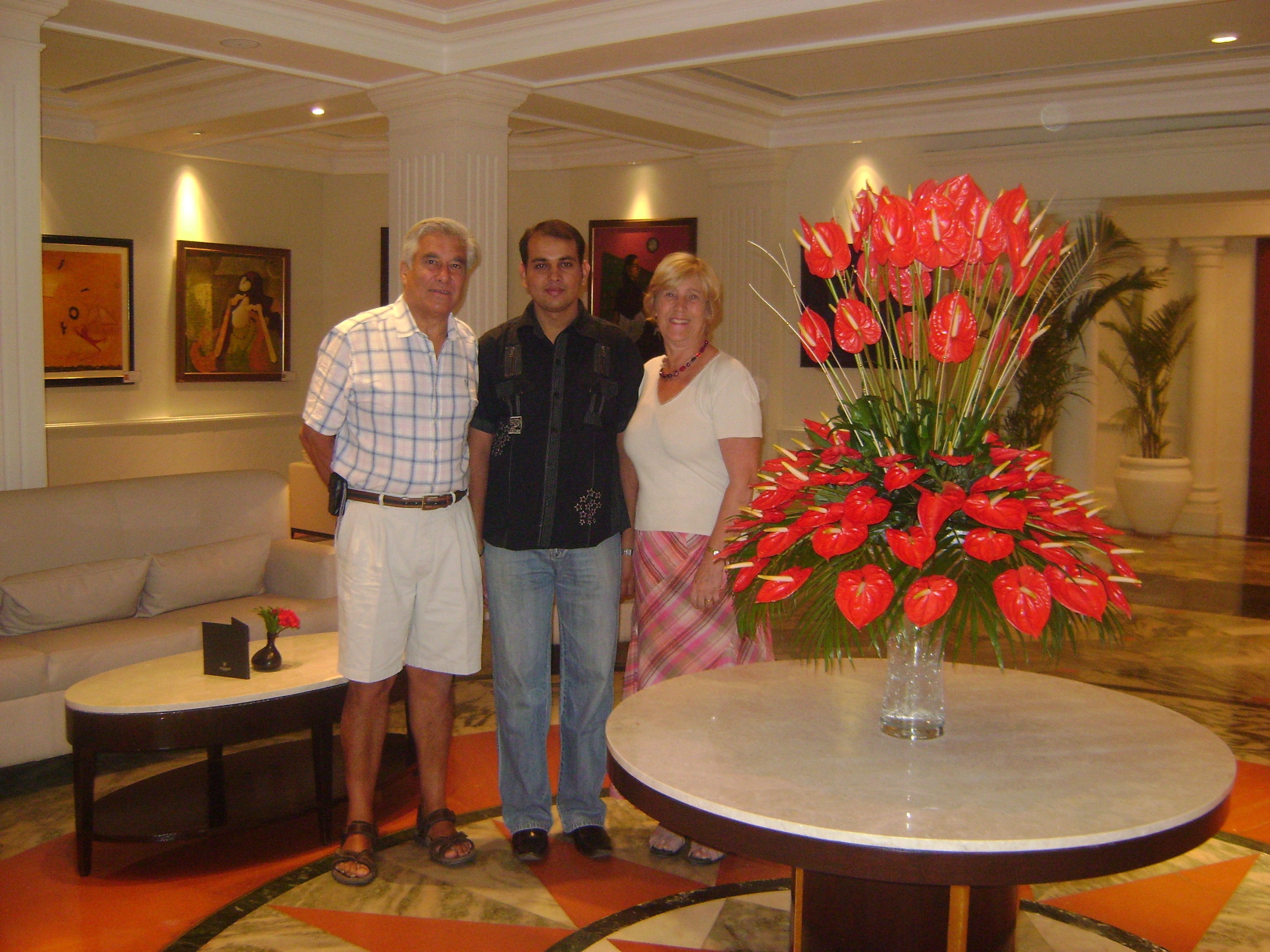 Cathy & Peter Fennell, United Kingdom
Places Visited: Delhi, Jaipur, Agra, Lucknow, Dehradun, Mussoorie - India

Hello Savion Travel,

This is a letter of thanks for your recent organisation of our Indian holiday.We are very pleased with everything you did for us, We thought the holiday was well organised and we would thoroughly recommend you to anyone. With your help, we achieved everything we wanted to.
The air conditioned car provided was good and the drivers were always prompt and helpful.The guides were always there to meet us and we were never on our own, on arrival anywhere.The guides were well informed and one particular guide, Al Furqan in Agra was outstanding. He spoke excellent English, explained everything perfectly, and was the perfect host.
Lastly, of course, we must mention Sanjay Mishra, who was a friend to us throughout our stay. When away from Delhi, he constantly kept in touch with us and helped to sort out any little problems we had.He was really very helpful to us,and we couldn't of done without him.He deserves a promotion!
There wasn't much on the down side: The train journeys, especially overnight, are not to be recommended.Also the statutory visit to the carpet/jewelry/linen store were sometimes a bit tedious and long.
Otherwise, well done Savion on an excellent job! Congratulations!!

Cathy & Peter Fennell.

Marc Willemsen, Germany
Places Visited: Delhi, Shekhwati, Bikaner, Jaisalmer, Jodhpur, Pushkar, Udaipur, Samod, Ranthambhor, Agra, Varanasi, Khajuraho - India

Hi,

It's been over a month now since we returned from our trip to India and the highest time to write an e-mail with a big thank you to the both of you. Our Indian adventure has been one of a lifetime and the both of us agree it has been one of the most fantastic trips we have ever made. I can rave about the beauty and splendor of all the sites we have been shown, also I could dwell away by the fantastic food we have tasted, the people, the colors, the smells... But these are all the beauties that India has to offer and make it such an interesting country to visit. They however have nothing to do with Savion and we would like to focus on that in this e-mail.

The both of us would like to say a BIG BIG thank you for the fantastic way that out trip has been organized. It started off with numerous e-mails in which you made sure that the trip was absolutely to our liking and ended with a perfectly arranged tour. It was a schoolbook example of how an organized tour should be. Everywhere we were welcomed by your local representatives and all our sightseeing's were accompanied by friendly and highly knowledgeable guides. This really made our trip the success that it has been. The hotels have been fantastic and there were some real surprises in hotels that you had selected for us. Just to name a few of the highlights: Shekawati, Bikaner, Samode. On more than one occasion we have been totally speechless about the great places we had the pleasure to stay in. And all of this would not have happened without your support! Once again Thank you so much!

A special word of appreciation should go to Param, our driver, what a wonderful guy he has been. Friendly, a very skilled and safe driver, in spite of the hectic traffic in India we never felt unsafe. We met as customers but left as friends, we were so pleased to have him as our driver. He has worked very hard to make sure the both of us were comfortable during the 17 days he drove us through Rajasthan. Please forward our thanks to him and say hello from the two of us.

Also please say hello to, Sanjeh, your representative in Delhi. Not only did he give us a heartwarming welcome on arrival in Delhi and farewell when we left but he also called several times during our trip to make sure we were doing fine and pleased with the services provided. Another proof of the professionalism and commitment of your organization!

So where do we go from here, I have already mentioned India was an adventure of a lifetime, well that is not completely true as we have already decided we want to come back at least twice to discover other parts of India (A trip to Kerala in the south and one to the North which could be either Kashmir and Ladak or another region in the Himalaya's (Sikkim, Darjeeling) are high on our wish list). It goes without saying that there will be no discussion on who to do this tours with, based on the fantastic experience we had we will then once again choose Savion as our tour operator. You have been absolutely marvelous !!!

It might take some years before we come back but we are already looking forward to exploring some other parts of India with you. Until then we wish you all the best and success in your business, you are doing a brilliant job and deserve all the success in the world.

Once again, we cannot say thank you enough, every time we think back on India we have big smiles on our faces. These smiles are partly due to the efforts of you to make this trip possible. One final time THANK YOU SO MUCH!!!

With the warmest of greetings from Germany,

Marc and Paul

Suresh Patel & Group, United Kingdom
Places Visited: India Tour - Delhi, Agra, Jaipur, Navasari, Surat & Mumbai

Savion,

Thank you for the excellent arrangements for our a few weeks ago. We enjoyed the excellent standards of hotels, the excellent driving and the guides.
The only issue was the long delay from Delhi to Surat with Air India (6 hours)

We will certainly recommend your company to our friends.

Thank you,
Suresh

---
Ashleigh Ormerod, Australia
Places Visited
: North India Tour - Amritsar, Delhi and Jaipur
Many thanks for letting me know. You have provided us with peace of mind and we will be happy to recommend your company to anyone we know who wants to come to India.
Thank you again for all your assistance to Ashleigh, she has had a memorable trip thanks to Savion.
Kind Regards,
Rosemary Ormerod
Antonella Cozzi, Italy
Places Visited: India Tour - Mumbai, Aurangabad, Hyderaad, Kochi, Alleppyy, Mahabalipuram, Triuchurappalli, Thanjavur, Madurai, Mysore & Bangalore

Dear Savion team,

Thanks for the swell tour that you helped me to organize. We saw beautiful places and we had a good time. Now i think that you are interested to know our comments about your services.

Hotel: all accommodations were very comfortable; we had chosen them with much attention reading the evaluations in trip advisor. Only one thing: why the rooms are never ready for three people? The hotels know that we were three but in the room they have always to add the extra bed (not very cushy). When we were in north India the rooms were always ready and cushy for three people.

Italian speaking guide:

Mumbai: very good the guide for the morning, a little too old the guide for the afternoon, he spoke with difficulty and it was not easy to understand.

Aurangabad: fantastic and very able

Kochi: bad, he was not a guide he was a person which speak a little Italian, but that knew nothing about visit . He thinks only to finish visit as soon as possible to go at home. He left us in a market and he is gone to take bus.

Mahallipuram: he speak very little Italian, but he was a good guide.

Driver - transport:

All transfer were ok, good drivers, always in time (except in Mysore)

Very special driver in trichy, Thanjavur, Madurai a person very dear.

Agency in Chennai very efficient, before carry us to airport they showed us the town.

Bad the agency in Bangalore because:

The driver was not informed about our tour

He not aware the programm of our visit, he think to take us to Bangalore one day before .... And when we finished the visit we had often to wait him

Besides he had not money to pay the entrance to Ranganthittu, so we had pay for a service included in our voucher,

Then the agency said me that in Bangalore they give me back money, but naturally the money have not be returned

When representative accompanied us to airport he said me that Savion would be refunded us

Now we wait the refund by you, it is a little amount but that is right. Otherwise, it was a splendid tour, India is a splendid country!

Congratulations to Jet Airways for their services: always in time, always good fly.

Thanks for all,

Antonella cozzi

Ravendra Lutchman & Rita, South Africa
Places Visited: Delhi, Agra, Jaipur & Mumbai

Namaste Varun,

Here's wishing you and the crew a very happy new year - hope it will be a prosperous one filled with peace and happiness.

Thank you for everything that you have done for us to make our stay such an enjoyable one - we truly appreciate everything. Please take care and hopefully we will chat again soon.

Warmest regards,
Rita and Ravi

Sent from my iPad

---
Pam Baddeley & Eva Taylor, United Kingdom
Places Visited
: India Tour - Lucknow,Udaipur, Dungarpur, Dasada, Bhuj, Mandvi, Janagar, Dwarka, Rajkot, Sasangir, Diu, Bhavanagar & Ahmedabad
Namaste,
I am home again after our fantastic trip around Gujarat.
I just wanted to thank you for superb organisation and ideas.
he hotels were lovely and varied. Food the best I have had in all my years of traveling around India, and our driver, Panditji, was also a very good guide. He knew his way around so well and was never fazed by any of our request. He was also unfailing cheerful. A great asset on our trip.
I will certainly come back to India again before too long and will not hesitate to use your services again or indeed recommending you to other travellers.
With best wishes and many thanks!
Eva Taylor
Willem Wittermans, Netherlands
Places Visited: India Tour - Hasan,Hospet, Badami

Hello, Savion Travel Services

4 (travelfreaks) back home again.
On behave of them, THANK YOU for your professionalism help. Mr. Ramesh our driver was a realy professional driver and guide. MANY THANKS to him.

We (4 travelfreaks) can sure recommend Mr. Ramesh for next customers.

Thanks and best regards.

Mr. Willem Wittermans and Simmie Gerlofs Holland
Mr. Fredy Elegeert and Linda Van Mossevelde België

P.S. We had a great time in India!!

Willem Wittermans, Netherlands
Places Visited: India Tour - Hasan,Hospet, Badami

Hello, Savion Travel Services

4 (travelfreaks) back home again.
On behave of them, THANK YOU for your professionalism help. Mr. Ramesh our driver was a realy professional driver and guide. MANY THANKS to him.

We (4 travelfreaks) can sure recommend Mr. Ramesh for next customers.

Thanks and best regards.

Mr. Willem Wittermans and Simmie Gerlofs Holland
Mr. Fredy Elegeert and Linda Van Mossevelde België

P.S. We had a great time in India!!

Michael Herbert, United Kingdom
Places Visited: India Tour - Agra, Karauli, Ranthambhore, Jaipur, Delhi

Dear Varun,

Very efficient services in all respects particularly driver was very good.

Regards,
Michael Herbert

---
Eva Kesselring, United States
Places Visited
: India Tour - New Delhi, Agra, Bharatpur & Jaipur
The Check-in service at The Metropolitan in Delhi was excellent. Our driver was professional and an excellent driver. All tour guides were knowledgeable and very informative. (Nothing comes to my mind right now - we were pleased with planning at the pace of the things you listed to our wishes - very important!!
Overall Impression (Continue) ....RE: Bharatpur The Naturalist and rickshaw driver at Bharatpur sanctuary were wonderful. The Naturalist knowledge was so vast. It answered every question and he provided information that comes from many years of study. The driver was kind, patient and also very informative.
Hello Mr. Neeraj,
Lise and I have been home safely since Monday, and I am writing to thank you again for the wonderful tour of India your excellent company provided. We were both more than astounded at the quality of accommodations and travel services provided for a very low price. The deluxe five star accommodations were among the best hotels in the world. The drivers and guides you provided each day were all exceptionally good English speaking professionals who all demonstrated an excellent knowledge of the various destinations we visited. Your employees and associates demonstrated genuine care and personal regard for our well being and the quality of our visit to India. They were patient and compassionate to our many whims and desires and together provided an unbelievable travel experience.Long time members of the hospitality industry, we speak with some authority when we say that Savion travel provides a complete travel experience that is second to none. We will heartily recommend your company, and travel to India, to our friends and customers, many of whom are frequent travelers. Please feel encouraged to pass on these comments to prospective customers.
We offer our many thanks to you personally and to all your staff and associates who helped make our honeymoon tour of India the trip of a lifetime. We sincerely hope to speak to you again about further travels abroad.
With our many thanks and best wishes,
John and Lise Wynne
Tofino BC Canada
................................................................................................................................................
Dear Surender
Good morning from the UK
We arrived back safely after our wonderful trip to India. We both had a great time, so thanks for arranging it so well. We will recommend you to our friends.
Best wishes
David and Astrid Frankl
................................................................................................................................................
Dear Vishwa,
I have been meaning to write you an email with a review of my North India tour package, but I have been quite busy back at home in New York.
I wanted to say thank you for putting together such a wonderful trip. Akash was very professional and I must say he was always on time and always instructed others to take care of me. All of the other tour guide operators and drivers were professional respectful and (aside from my illness)I had a wonderful time! I felt very looked after and safe in each city I visited.
Please thank Akashi again for me. He has provided me with some travel documents for my travel insurance I am still waiting to hear back from the insurance to see if this is sufficient.
There was only one representative that was not there waiting for me, that was when I arrived in Mumbai. I think my flight was delayed about 35 minutes and the airplane pilot waited with me for safety. The driver that drove me to the airport that evening out of Mumbai, right before I finished my tour said to me that he tour escort who was supposed to wait for me when I arrived to Mumbai told his superior that he was there, but he was not.
All in all-- it was a great experience, wonderfully tailored to exactly what I wanted and everyone treated me wonderfully. Please thank all of your staff especially Akash and Karam the driver who was also very receptive to my needs and took very nice care of me.
Thank you again and I look forward to doing business with you again!
Kind Regards,
Cristina Torres
................................................................................................................................................
Dear Mr. Neeraj & Mr. Surender,
Thank you for the wonderful experience of touring the golden triangle. Everything was very well serviced and we were looked after very well. In future, I shall have no hesitations in choosing your company for my touring and travelling needs.
Best regards,
Shaheen Akbari
................................................................................................................................................
Dear Savion Travels
Ref: Nepal Tour
Thanks a lot for the arrangement in Nepal. It was an unforgettable experience. Every thing from starting and till the end was really enjoyable. Savion is really doing a great job in helping the people in exploring the beauty of the world. Every single person has paid personal attention towards my need and they made me feel like a heaven in Nepal.
All credit goes to the Savion and its staff who are very well organized and professional. My hotels were beyond my expectations and the location of Hotel Hyatt in Kathmandu was very romantic.
In Nepal I wanted a little bit change in my itinerary and with the help of Mr. Neeraj Nauhwaar and the representative from Savion travel, Mr.Namit Singh made it easily for me. Guide in Nepal was very understanding and knowledgeable. We took me above beyond to show me everything and explained everything. The only problem I had was that there should be an early flight to Kathmandu so that I could have more time in Nepal.
Namit is a wonderful person. He has explained everything to use and very punctual and explained everything. I would definitely recommend Savion travels to my dearest and friends.
Thanks A Lot………….
CONNIE A BENNETT
................................................................................................................................................
Dear Surender,
Places Visited: Delhi- Agra -Jaipur -Jodhpur-Udaipur
In India we had really a good time .The whole tour was around our expectations but it could be much better. The hotel's room in Delhi was good but House Keeping was excellent.
Savion Representative was very helpful and did the follow up till the end of the tour. The Guide in Agra was a perfect package (good Knowledge, very attentive and well mannered) and all other guides in every city were excellent except in Jaipur.Our Itinerary was very well planned and met our expectations. The overall impression of Savion Travels was fantastic though there were few problems while moving from city to city as the condition of roads were not good. So I would suggest you to recommend jeep for trips.Overall the tour was fantastic and well organised.
CRISTINA BELLA
Belgium
Trust above is in order.
................................................................................................................................................
Dear Mananv
We had a very good stay at the hotel and they have been kind enough to look after our bags until Sunday.
Thank you for your help and we shall be sure to use your efficient services on our next visit to India and will recommend you to our friends and colleagues in Australia.
Regards
Mrs Breuer
Antony G Breuer
Managing Director
Gresham Funds Management Group
................................................................................................................................................
Dear Manav
Hello
Well I am back in England, I am glad to say all went well. All the travel arrangements were excellent. Mr Ghosh is a very pleasant man, please convey my thanks for handling the transfers. I gave him a box of chocolate for Savion as a token of thanks.
Hopefully I will be able to pass on more business to you in the near future. Please let me know if you organise trips in other parts of India.
With kind regards
Jayshree
................................................................................................................................................
Hi Sanjeev/Dhirendra
Just a quick email to say thank you for the wonderful service you provided to us for our stay in india. We were especially grateful to you for finidng us Ashok Country Retreat for our last night in India. It was a lovely place and put the icing on the cake on a wonderful trip for us.
For our next trip to India (i'm sure i'll go there again) i'll have no hesitation in contacting you again and will be sure to use your services again. Once again thank you for the professional service you provided.
Many thanks
Tahir
................................................................................................................................................
Dear Dhirendra and Sanjeev
Just a quick email to say THANKS for arranging a great holiday for us in Goa. It all came together beautifully in the end - after many emails between yourselves and me/my husband!
Both the hotels were great - the Nanu was clean, smart and the staff were absolutely fantastic. The Intercontinental was extremely extravagant but great!! Lovely staff there too. They both had their charm but in different ways. In the end it really worked out well as it gave us the chance to explore the beaches right at the South of Southern Goa, which were gorgeous.
I will definitely recommend you to friends and family in the future on websites also.
Many thanks again and warm wishes to you all.
Jill, Alex, Ella and Eve Connors