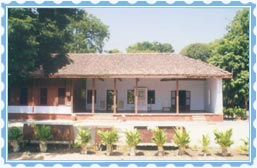 Sabarmati Ashram established by Mahatama Gandhi is the focal point of Ahmedabad. Its cotton textile industries have earned the city the nickname of the 'Manchester of the East'. Ahmedabad has been named after its founder Sultan Ahmed Shah, who founded it in 1411 on the banks of River Sabarmati. In the 17th century, Ahmedabad had acquired a special in some of the most prosperous Indian cities and emerged as a key trade and commerce centre. Economic depression in the 18th century caused a slip to the hands of British.
However, it was Mahatama Gandhi who immortalized the city in the history of India by launching the National Freedom Movement for India from here. The second largest industrial centre of Western India, Ahmedabad is an eclectic mix of the traditional old and the modern metropolitan city. The large number of mosques in the city such as the mosques of Shah Alam, Rani Rupmati, Ahmed Shah and Sidi Saiyad with unique and distinctive architectural styles has popularized the city as the 'city of mosques'.
Ahmedabad's Prime Attractions
Sabarmati Ashram
A prominent centre and the launching pad of the National Freedom Movement, Sabarmati Ashram was established in 1915 on the banks of River Sabarmati founded by Gandhi ji. In 1930, it was here that Gandhiji started on the famous Dandi March and till then, it has become symbolic of India's independence and freedom. Now, a nuseum dedicated to Gandhi and his family and life, it houses a library with scores of books on Mahatama Gandhi and his philosophy. It remains open to the visitors daily from 8:30 am to 6:30 pm and there are light and sound shows organized in the evenings four days a week, namely, Sunday, Tuesday, Thursday and Friday.
Shaking Minarets
Shaking Minarets are a rare piece of Muslim architecture and are a part of Sidi Bashir mosque. The twin minarets display a unique 'resonance' effect, where whenever, one minaret is shaken, the other also starts rocking. They have a earthquake-resistant structure too. British unwittingly dismantled some of its portions in the attempt to try and understand their mechanism but were unable to put them back together successfully.
Bhadra Fort
Named after the revered temple of Goddess Bhadrakali in the premises of the fort, this fort is a cluster of royal palaces and well-planned gardens.
Hathee Singh Temple
The 19th century white marble Jain temple, which is highly carved, is dedicated to the 15th Jain apostle and is the best of all Jain temples in Ahmedabad.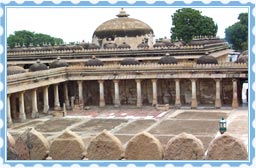 Sarkhej Roza
The buildings of this elegant beautiful architectural complex have no arches and use pierced stone trellises.
Dada Hari Vav
One of the traditional Gujarati step wells, built by a woman of Sultan Begara's harem in 1501, is deserted but yet has a mysterious charm to its galleries. A series of steps leads to the lower and cooler platforms that offer relief in the hottest days of summer.
Kankaria Lake
An artificial lake built by Qutb-ud-din in 1451 with a fabulous island palace in the midst of the lake was the favorite retreat of Mughal emperor Jehangir who came to stay here with his wife Nur Jahan. It is a popular picnic spot for the families now and has an aquarium, a children's park and a zoo too.
Calico Museum
One of its kind, Calico Textile Museum is actually an intricately carved 'haveli' made of wood has rarest tapestries and wall hangings. It displays a rich collection of ancient and modern textiles, fabrics and costumes since 17th century, a reference library and some older weaving machines that are testimonials of the evolution of the textile industry since then.
Ahmedabad City Facts